Items can be purchased with Robux, gained through special events, or rewarded with codes in Roblox's online game.
However, what is more essential is that those identical goods may also be traded. As a result of the large number of goods available for users to use to customise their avatar, there is certain to be something you don't have but another person does. Furthermore, it is via trade that objects that were once unattainable might be gained once more.
Read Also: How to Enable Voice Chat in Roblox
Is Trading Possible in Roblox?
Trading with other players is possible in Roblox, although not everyone is permitted to do so. Players must join up for Roblox Premium in order to participate. This membership service provides players with a monthly Robux allotment (along with a 10 percent bonus when purchasing extra Robux), the option to resale products, and the chance to earn additional Robux by selling their creations to other players.
Roblox Premium is available in three different levels:
$4.99 – 450 Robux per month
$9.99 – 1000 Robux per month
$19.99 – 2200 Robux per month
The sole difference between the membership categories is the quantity of Robux that gamers will earn every month during their subscription period. This implies that in order to trade with others, players simply need to be enrolled to the $4.99 tier of the game. It's important to remember before making any purchases that Roblox has experienced security issues in the past that have resulted in the disclosure of sensitive user account information.
The other restriction on trading in Roblox is the type of items that may be traded. Trading is now limited to only Limited Items, Limited Unique Items, and Robux at this time. This implies that products obtained through the purchase of a specific game (such as the massively popular Adopt Me!) or created by another developer are not available for trade.
How to Trade Items with other Players
Purchase Roblox Premium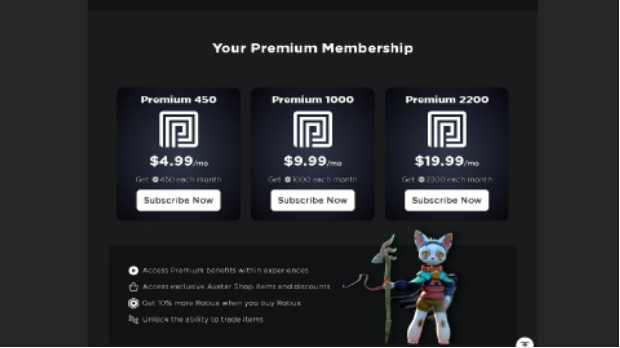 Unfortunately, only Roblox players who have purchased a premium membership are permitted to exchange items. It is true that both participants must have Roblox Premium in order to unlock and engage in trade.
To acquire Roblox Premium, follow these steps:
Step 1: Go to the Roblox official website and sign into your account as a first step.
Step 2: On the left-hand side, scroll down to the bottom of the list and click on the Get Premium option.
Step 3: Select a premium membership plan and click on the Subscribe Now button.
All premium membership packages include access to the opportunity to trade with other members of the community. Currently, the cheapest package that gives you the ability to trade is $4.99 per month.
Step 4: The fourth step is to pick a payment method, then click Continue to finish the purchase. Using your Roblox Star code now is the best moment to benefit from it.
Enabling trading in Roblox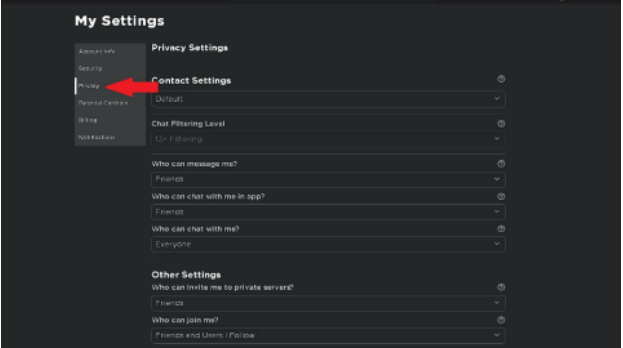 The ability to trade must be enabled now that you have a Roblox Premium subscription and the trading feature has been activated. To begin, go to the Roblox webpage and do the following:
Step 1: Click on the Settings icon in the upper-right corner of the screen.
Step 2: From the drop-down menu, select Settings from the list.
Step 3: Select Privacy from the drop-down menu on the left.
With Roblox Premium, a new trading option has been introduced to the Privacy page, which you can access by clicking on the Trading button. Select the individuals who are permitted to deal with you.
Video