HyperDrive USB-C Hub For 2018 iPad Pro: The Answer To All Our Prayers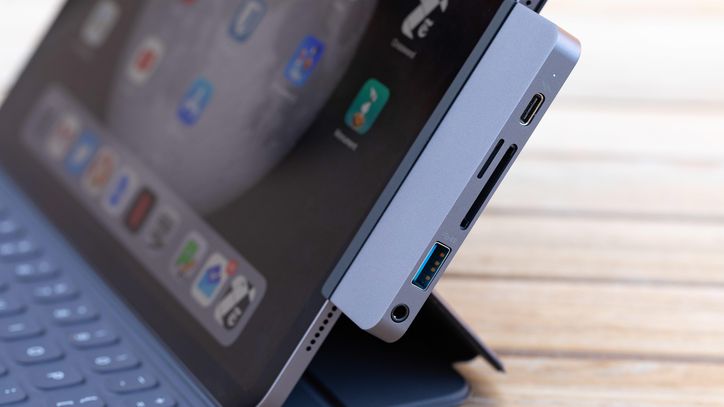 iPad has never been a laptop replacement machine, no matter what Apple says but it has been evolving ever since the first iPad came out. 2018 will always be considered a big year for iPad because that's when the company decides to go with the best design for the product with those minuscule bezels and that monstrous Apple A12X Bionic chip. It is not completely off the track to say that many people don't use actual computers for basic internet related tasks, it is either their smartphones or tablets that do the good enough job for them. There are those people too who actually use iPad or similar devices for a bit more, like photographers, designers, sketch artists, writers and many other creative minded people.
The software and design of the iPad have come a long way but we have lost a few beloved features along the way. For instance the 3.5 mm headphone jack is officially gone from all iOS devices, R.I.P little buddy. We have also lost the touch I.D which, to me, is an even bigger travesty. So why oh why, people are still buying this product? I'd say due to the new features, faster speed, better screen to body ratio, better display, smaller footprint, more speakers, Apple pencil etc and to top it all off, it is still the best tablet out there.
HyperDrive is a Kickstarter project that so many wanted to succeed when it was announced and now it has come to fruition. As good as the 2018 iPad Pro is, it sucks when it comes to physical connectivity. All these silly little dongles that not only become expensive over time but a hassle to carry around and look horrible attached to a gorgeous device. Your 3.5 mm headphone jack dongle, the Card reader dongle, the HDMI dongle and so on. HyperDrive is a USB-C hub specifically made for the 2018 iPad Pro line. One hub that not only matches the color of the iPad but is a one off device, 'One Hub to Rule Them All', if you will.
The Hyper USB-C hub has;
Output:
A full size HDMI port
3.5 mm headphone jack
MicroSD card slot
SD card slot
USB-A port
USB-C port for Data & Power Delivery
Input:
1 x USB-C (USB 3.1 Gen 2, 10Gb/s)
Dimensions:
3.36" x 1.2" x 0.35 x 9mm
Weight:
1.2oz / 34g
The precision mulled aluminum enclosed device id carefully color matched to Silver and Space Grey iPad Pro. Same device works with both 11" and 12.9" iPad Pro. It has a soft material grip by the connector that makes sure that neither iPad nor the hub gets scratched after long periods of use. Grips are removable to work with multiple types of cases but with the grip on, it works with Apple Smart Covers and Keyboard folios. The top part of the HyperDrive is plain with nothing written or painted on it, so it looks quite neat.
However I wish in the future they'd make it slightly slimmer, it is fine as is but I'd still prefer it to have an even less of a footprint. Another noteworthy thing is that once attached to the iPad, it covers a tiny bit of speaker on the 12.9" but 11" iPad suffers from almost half of its bottom firing speakers covered up by the device. Other then that, I honestly can't find anything wrong with this wonderful device.
Now, iPad can be used as a more productive all-in-one device than before. HyperDrive is a must buy especially if you are an on the go creative person, I absolutely recommend it.