Meg Lanning or Shafali Verma? Who is a Better Opener in WPL?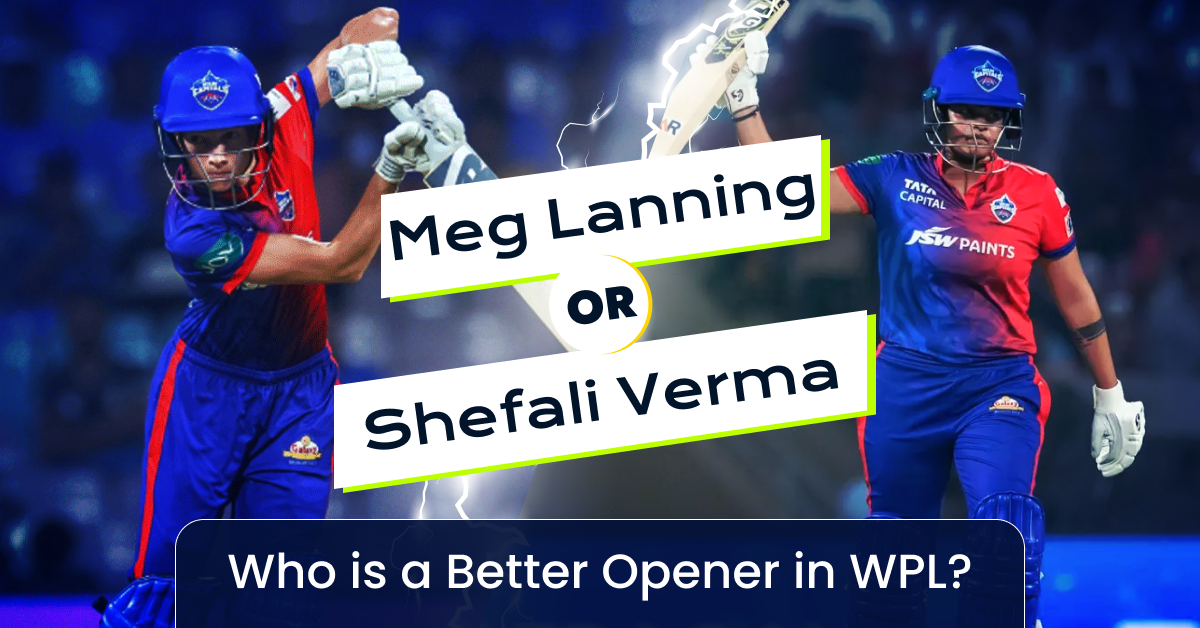 In recent years, there has been a surge of skilled players in Women's cricket. The sport has become more difficult and competitive; therefore, the players must keep improving to keep up with the game's pace. The future of women's cricket in India is promising, as the Women's Premier League is celebrated throughout the nation.
Setting the tone for the game is mostly up to the opening batters. They have to face the new ball, tackle the opposition's pace attack, and provide a solid foundation for the rest of the team.
In this blog, we will compare two of the finest opening batters in women's cricket: Meg Lanning and Shafali Verma. Fortunately, or unfortunately, both of these players are from Delhi Capitals. Undoubtedly, Delhi has the best openers. Out of these two, who is a better opener?
Meg Lanning
Meg Lanning is one of the most prominent names in women's cricket. She is the current captain of the Australian women's team and has an impressive record as an opener. Lanning made her debut for the Australian team in 2010 and has since established herself as one of the best batters in the world.
Lanning has played in 132 WT20Is. She scored over 4000 runs in ODI cricket at an average of 53.517 and 3405 runs in T20Is at an average of 36.61. Seeing at the WPL 2023, she has scored 185 runs in her first three matches at a strike rate of 146.82.
As the Australian captain, Lanning has led Australia to four T20 World Cup victories and one ODI World Cup victory. She is known for her ability to score runs consistently, has many strokes, and can play attacking and defensive innings. She has a high backlift, which helps her generate power in her shots. Lanning is also an excellent fielder and can contribute with her part-time off-spin.
Lanning's WPL 2023 Stats (First 3 Matches)
Check at Meg Lanning's WPL 2023 performance statistics below:
Check at Meg Lanning's WPL 2023 performance statistics below:
| | | | | | |
| --- | --- | --- | --- | --- | --- |
| Name | Matches | Runs | SR | 4s | 6s |
| Meg Lanning | 3 | 185 | 146.82 | 29 | 3 |
Shafali Verma
Shafali Verma burst onto the scene in 2019, taking the cricketing world by storm. Verma is a fearless and aggressive batter who loves to challenge the bowlers immediately. She made her Indian women's team debut in 2019 and has since had a significant effect.
Verma has played 56 T20Is and scored 531 runs in ODIs at an average of 26.55 and 1333 runs in T20Is at an average of 24.23 with a strike rate of 132.11. Seeing at the WPL 2023, she has scored 103 runs in her first three matches at a strike rate of 158.46.
Verma is renowned for her aggressive style of batting. She can hit the ball long and has a natural flare for the game. Verma has a unique technique where she shuffles across the stumps before the delivery, which makes it difficult for the bowlers to bowl to her. Verma is also an excellent fielder who can take spectacular outfield catches.
Verma's WPL 2023 Stats (First 3 Matches)
Check at Shafali Verma''s WPL 2023 performance statistics below:
Name Matches Runs SR 4s 6s
Shafali Verma 3 103 158.46 11 5
Comparing the Two Openers: Lanning & Shafali
Lanning and Shafali are both exceptional openers in women's cricket, and it is difficult to say who is better definitively. Both players have achieved significant success and have unique strengths and skills.
If you bet on WPL players through any online betting ID provider, make sure you have these two top players included.
There are a few factors to consider when comparing Meg Lanning and Shafali Verma as openers.
● Firstly, their style of play is entirely different. Lanning is a classical batter who relies on timing and placement, while Verma is an aggressive batter who likes to take on the bowlers from the word go.
● Lanning's technique suits longer game formats, where patience and temperament are essential. Lanning can build innings, anchor the innings, and play through tough periods. She has a wide range of strokes and can rotate the strike well.
● Verma's technique is more suited to the shorter formats of the game. She can take the game away from the opposition in overs. Verma's aggressive approach can put the bowlers under pressure and force them to bowl to her strengths.
The most captivating opening combo belongs to Delhi Capitals. The opening duo Meg Lanning and Shafali Verma is outstanding. In only 87 balls during their opening game of the competition against Royal Challengers Bangalore, the pair scored 162 runs.
Ultimately, it is difficult to compare the two players as they have different styles of play and different strengths. Lanning and Shefali are excellent openers and play crucial roles for the teams. Together they will perform well in the forthcoming WPL matches.
Our Verdict
In terms of whatever is done and achieved, Lanning is better. In terms of promising future, Shafali is better.
Time will answer this question even better. If we have to pick one among them for our side, it is undoubtedly Shafali as she would play for long as she is just 19 years old.
Openers are a key element of any cricket match, especially in the T20 leagues, including WPL. Openers are the first ones to bat in the innings. The duo of Meg Lanning and Shafali Verma are excellent opening batters in women's cricket. They have their unique styles of play and can make a significant impact on the game.
And the decision of who is better depends on the context of the match and the team's strategy.
Frequently Asked Questions
1. What are some of Meg Lanning's biggest strengths as an opener?
Meg Lanning is known for her excellent technique and ability to play attacking and defensive shots easily. She is also a great game reader and can adapt to different situations accordingly.
2. How does Shafali Verma's approach differ from Meg Lanning's?
Shafali Verma is a much more aggressive opener than Meg Lanning, and she tends to play attacking shots from the very first ball. She is also likelier to take risks and play unorthodox shots to unsettle the bowlers.
3. Who has a better record as an opener – Meg Lanning or Shafali Verma?
Both players have impressive records as openers, but in terms of overall statistics, Meg Lanning has a slightly better record than Shafali Verma. However, it's worth noting that Shafali Verma has only played at the international level for a couple of years and has already made a big impact despite her young age.