New BIOS Versions for MSI's Socket AM5 Motherboards Are Available to Accommodate Upcoming Processors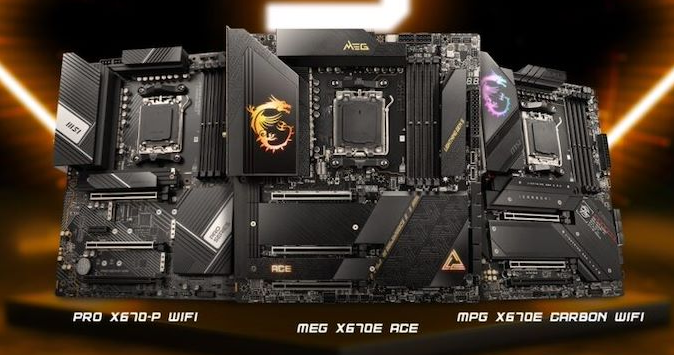 MSI has now announced that all of their X670 and B650 motherboards will be fully compatible with AMD's new Ryzen 7000 Series of CPUs. The latest AMD Ryzen CPU lineup includes the 65 W TDP defaulting AMD Ryzen 9 7900, Ryzen 7 7700, and Ryzen 5 7600. These CPUs, despite having a reduced TDP, will have as many as 12 cores and 24 threads and can theoretically accelerate to over 5 GHz. This new BIOS update, "AGESA COMBO PI-1.0.0.4," is fully compatible with and ready to go for all MSI X670 and B650 motherboards at launch.
With the introduction of the AMD Ryzen 7000 Series processors, MSI has introduced three new tools to aid with overclocking: the Performance Switch, the PBO Thermal Point, and the Config TDP. In the MSI BIOS, MSI debuted a new feature this year dubbed Performance Switch. Users of Performance Switch can select from three different presets and an advanced mode. The CPU's single-core and multi-core performance is then boosted by a significant amount thanks to the merger of AMD's standard PBO "Precision Boost Overdrive" and MSI's OC settings.
The PBO Thermal Point function comes up next. Set Thermal Points 85°C, 75°C, and 65°C are some of the MSI PBO Thermal profiles that will allow the maximum CPU temperature to operate. If you use this profile, your CPU will work at a lower voltage to stay under the temperature limit, resulting in less heat production and a cooler operating system.
Config TDP is the final available option. Overclocking novices will appreciate how straightforward this option is to utilise. MSI's Config TDP is a BIOS feature that allows users to select from a variety of predefined profiles with varying TDP values. Because of this, consumers can relax knowing that they won't have to fiddle with the settings again; instead, they can set everything up once and forget about it. All MSI motherboards with the X670 or B650 chipset will have the option to use the Config TDP feature.