Open Source Coreboot BIOS Ported to MSI Z690-A Motherboard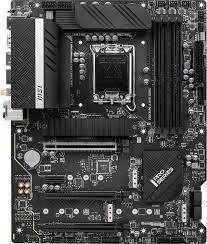 MSI's Z690-A Pro WiFi DDR4 motherboard, according to Phoronix, has just received Coreboot compatibility, which was provided by Dasharo and deployed by firmware developer 3MDEB with assistance from Dasharo. Coreboot is a firmware replacement for factory UEFIs and BIOSes that promises to be quicker, more versatile, and more secure than the firmware that came with your motherboard or laptop from the manufacturer.
This new Coreboot support from 3MDEB is one of the extremely few instances in which Coreboot has been implemented on a totally current platform, particularly on a desktop motherboard. It is also the first publicly accessible port of Coreboot to a standard Alder Lake-supporting motherboard, making it a significant milestone.
Coreboot, for those who are unfamiliar with the term, is an open-source firmware platform aimed at delivering computers with a smaller weight and more feature-rich UEFI/BIOS than the ones offered by the original equipment manufacturers. Because of its open-source nature, updates and enhancements to Coreboot may be worked on by a large number of people at the same time and on a continuous basis.
As a result, Coreboot is expected to be a more contemporary and simplified UEFI/BIOS when compared to what OEMs are now capable of delivering. One of the most important improvements offered to end customers is a considerable reduction in boot-up times when compared to OEM UEFI/BIOS, with up to 70% quicker boot-up times. Making the delay between pressing the power button and the commencement of an operating system's startup nearly non-existent. Another set of features includes enhanced security, an update mechanism that is virtually unbreakable, and much more.
However, in order for Coreboot to function properly, it must have access to a firmware distribution to operate from. In comes Dasharo, a business with extensive experience in developing firmware that is compatible with a variety of different systems. It is expected that Dasharo would bundle Coreboot's firmware as well as extra features and platform compatibility for either Intel FPS or AMD AGESA into a single package that can be loaded on a machine. 3mdeb's responsibility has been to port this firmware release to specific devices, such as the Z690-A Pro WiFi, and to ensure that they are completely functioning.
Already booting an Ubuntu 20.04 installer on MSI PRO Z690-A WiFi DDR4 with #Intel #AlderLakeS CPU using @coreboot_org. First Dasharo binary release coming soon with display, USB, and UEFI boot support. pic.twitter.com/rXvHjQhUFL

— Dasharo (@Dasharo_com) April 12, 2022
For the time being, open-source BIOS is still in its early stages, but according to a Tweet from Dasharo, a binary version with support for display, USB, and UEFI booting will be available shortly.
Based on the capabilities of Coreboot, we anticipate that our port to the MSI Z690-A Pro WiFi will provide significant advantages in both security and speed over the MSI Z690-A Pro WiFi's regular UEFI. However, caution should be exercised when working with this BIOS because it is still an unofficial version that may have flaws that are not present in MSI's official firmware.