Silverstone's PS5 SSD heatsink makes basic PC SSDs compatible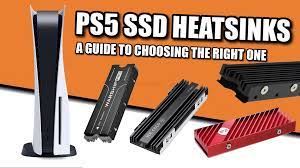 There is still a significant gap between the personalization possibilities available on consoles and those available on computers. One of the most enjoyable aspects of being a PC gamer is the flexibility to customise your system to meet your own requirements.
Consoles, on the other hand, are becoming better. In the modern day, they all require some form of external storage to function properly. Some systems, such as the PlayStation 5, will even allow you to customise the internal storage with a removable m.2 drive, although due to cooling concerns, even this hasn't been a straightforward process.
When it comes to PCs, the motherboard often has adequate cooling to handle the heat generated by the majority of the drives that are connected to it. However, because of the way a PS5 is constructed, SSDs require their own heatsink, which isn't always readily available. Samsung just added a heatsink to its 980 Pro, making it a more appealing option for console players. However, this new 3rd party stand alone cooler may be exactly the thing for those looking for an alternative.
In addition, with the file sizes of today's high definition games, the available space might rapidly become insufficient for the task at hand. If you were fortunate enough to get a PS5 during the console shortages, you've undoubtedly also felt the need for a larger hard drive at some point. Hopefully, SilverStone's TP06 will have a price that is as fair as the purpose that it is intended to do.
It is not necessary for consoles to be the only devices that require new heatsink alternatives for data storage. SSDs are expected to get much hotter in the future, prompting some to anticipate that SSD cooling will become standard as technology continues to heat up.