Sony Readies the WH-1000XM5 Wireless Headphones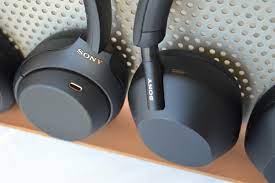 In light of the numerous rumours that have circulated over the course of the past month, it has been rumoured that Sony is getting ready to release their wireless "WH-1000XM5" headphones. The upcoming release will continue the 1000X series of premium noise-cancelling headphones, and it will serve as the replacement for the incredibly popular WH-1000XM4 model. The WH-1000XM4 model has been quite successful.
The WH-1000XM5 headphones offer an over-ear design that is both familiar and updated, and they come equipped with both the "V1 Integrated Processor" and the "HD Noise Cancelling Processor QN1." Both of these features can be found in the headphones. The innovation in technology combines the "multi-noise sensor technology" of the two processors in order to gather noise in an efficient manner making use of the four sensors that are positioned on the left and right sides of the headphones. This allows for the headphones to be worn on either the left or the right side of the head. The utilization of carbon fibre allows for the creation of a structure that is not only lightweight but also tough. The 30mm driver unit, which is responsible for delivering sound of the best possible quality, is housed in this design.
In addition to the high-quality sound technology that the headphones get from the Walkman® brand, the call functionality of the headphones uses an algorithm that was developed through artificial intelligence machine learning with more than 500 million samples to separate the user's voice from the ambient noise. This algorithm allows the headphones to differentiate between the user's voice and the background noise. The WH-1000XM5, which is compatible with USB Power Delivery (PD) charging, can give up to three hours of playback time after only three minutes of charging. This is made possible by the fact that it can be charged in only three minutes.
The WH-1000XM5 wireless headphones will be available for purchase directly from Sony as well as at a limited number of other retail locations. The cost of the headphones is 50,000 yen, which is approximately $393 USD at the current exchange rate.