Surface Duo Review – 1st Gen of Android Surface Device from Microsoft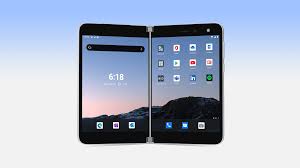 It made me and most of Tech reviewers excited when Microsoft announced Surface Duo in Oct 2019, a dual-screen surface device that runs on Android software. The only problem was the time for Surface Duo's arrival because at that time Microsoft gave a date that was pretty far away. At that time most of us take it as a phone but Microsoft doesn't categorize Surface Duo as a phone so the tech community is quite confused about what to call it then.
Surface Duo Hardware
I am not going to talk about the specs in this review becouse I am more intrusted in how it turned ot to be then how much power is carry and to be frank it's looks and dimentiones are as i have expected. It is extremly think device. It is almost the size of an iphone in it's closed state and in the open state it is almost as thin as Camara bump of some devices.
From out side Surface Duo is clearly one of my most faverate devices. It is from the inside were things go wrong. The inside looks of Surface Duo dosn't look appeling and up to date.
Mircrosoft has developed a wonderfule hinge that is supporting surface duo and it is dificult to fine a singel person that can say otherwise. No sound, Exremly smoth, and one can use it in many angels. Surface Duo's hinge is one of the best hinges on foldabe devices i have reviewed.
Software
Microsoft is famouse for its top notch softwares but this time the software is full of bugs and issues like all other 1 gen deviceses, it has type of issue like touch sensativity issue, gyro issue,  app optimization issue, and lag issue.
Software is the department in which microsoft need to pay attentions to in this device. Microsoft is sending constent updates to clear the issues. I hope to see them clearing these issues becouse I want to see its 2nd gen device.
Overall Review of Surface Duo
For a Microsoft fan or tech reviewer it is a wonderfull and shiny new toy. It is as much exiting as a new gagde can be but the question is if it is a sutable device for a normal consumer?
No! it is not a sutable device for a reguler consumer becose of its shot commings. There are things that might bother the reguler consumer. the price of this device is the price of a flagship phone but the software is not as polishied as it should be. It is very wide device not easy to hold or use. Camare is almost ok not as good as it should have been for a device as expensive as this.
But then again if you are reading this post about a android device from Microsoft. Do you consider your self a reguler consumer? Or are you that person who like to carry a device that is uniqe and brag about it whenever you get a chance. If you are then this might the device you wan't to buy.
Also Read : Phone with Fordable Technology