ASUS ZenFone 7 Pro review: The Most Attractive Flipping Cameras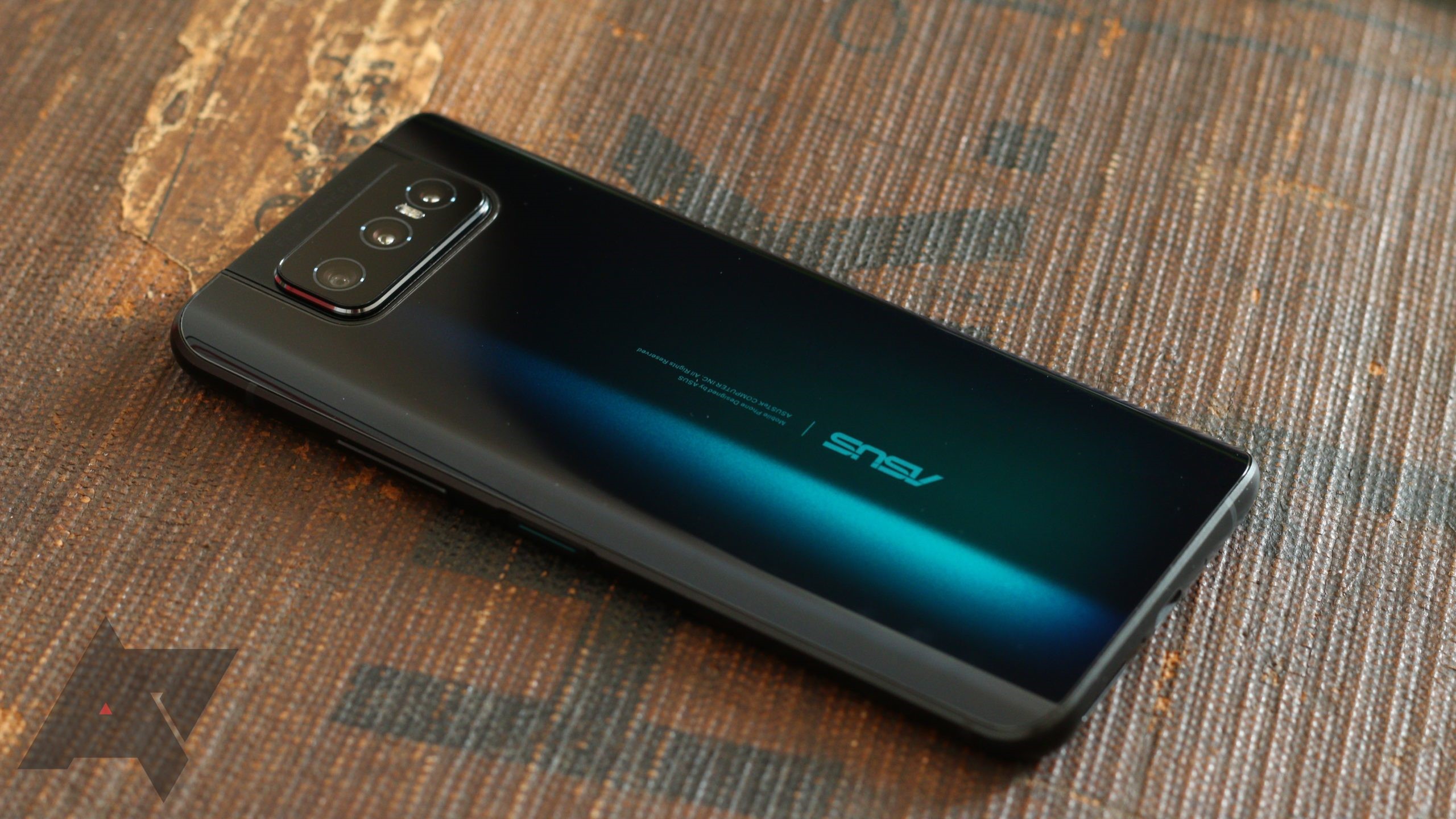 Last year, Asus ZenFone 6 took us by surprise with a unique camera that could flip a full 180 degrees. Means — you could swing the three rear cameras around the top edge of the phone to turn them into selfie cameras — Great!
In 2020, the Asus ZenFone 7 retains the same idea with an enhancement over that already wonderful phone, and with a higher price tag as well. There're two variants of the latest ZenFone, not one. The standard ZenFone 7, as well as a superior version named ZenFone 7 Pro. We're going to talk about ZenFone 7 Pro.
The Zenfone 7 Pro's eye-catching camera is the part of a muscular smartphone powered by a flagship Qualcomm Snapdragon 865 Plus processor, combined with 8GB of RAM and 256GB of storage. The standard Zenfone 7 boxes a slightly slower Snapdragon 865 processor, 128GB of storage, and 6GB of RAM. The big 5,000mAh battery and switch from an LCD to a 90Hz Samsung OLED panel is a welcome improvement as well. Both variants support 5G technology.
There is an availability problem of these phones as Asus skipped the US and Canada with its latest ZenFone devices means if you're interested to get one of them, you have no choice but to import. You can buy these from European and Asian markets
Price and availability
The Asus Zenfone 7 Pro has been released in European countries with a launching price of €799 (around $955) while the standard Zenfone 7 with some camera and specs compromises will set you back €699 (around $836). This is a big price jump from its predecessor the ZenFone 6 which was launched at a compelling price tag of just $499. So far there're no official plans to release in the US.
Specification and Performance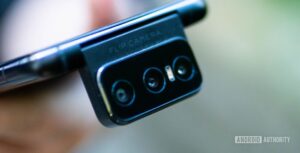 With Asus ZenFone 7 Pro you'll get one of Qualcomm's finest mobile chipsets — the Snapdragon 865 plus — which brings eight Kryo 585 CPU cores running at 3.1GHz and an Adreno 650 GPU module. Useless to say, this is a serious powerhouse that delivers a swift performance in everyday use. With a 5,000 mAh battery, 8GB of RAM, 256GB of internal storage, and up to 2TB microSD cards support, this phone nearly ticks all the boxes, with the only omission being a headphone jack. However, the standard ZenFone 7 opts for a slightly slower the Snapdragon 865 and lesser RAM than the Pro — 6GB compared to 8GB.
The Snapdragon 865+ with the 90Hz display panel makes the Zenfone 7 pro performance creamy smooth. It will let you experience a speedup in boot time, starting different apps, receiving phone calls, swiping between images in the gallery, and unlocking the phone. You can play 90 FPS games on the highest graphics settings available.
Display: 6.7-inch AMOLED (FHD+; 90Hz)
CPU: Snapdragon 865 Plus
RAM: 8GB
Storage: 256GB
Cameras: 64MP main (ƒ/1.8), 12MP ultrawide, 8MP telephoto with 3x optical zoom
Battery: 5,000 mAh
OS: Android 10 with ZenUI 7
Size: 6.5 x 3.04 x 0.37 inches
Weight: 8.11 ounces / 230 grams
Display and Design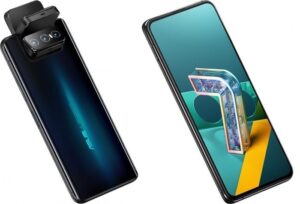 The ZenFone 7 Pro is really an impressive phone. It contains a 6.67-inch AMOLED display with a 90Hz refresh rate not intruded by cutouts or gashes as there's no front camera, allowing for a 92% screen-to-body ratio. The bezels on top and sides are narrow and look almost symmetrical while the bottom one is a little thicker. The screen is gorgeous with lively colors as we expect from modern-day OLEDs, and the utmost brightness is perfectly appropriate to use in the sun. You can also switch to a more suitable color mode. Both the regular and pro versions feature the same display which is a great improvement over the older model the ZenFone 6 which had a 6.4-inch LCD panel.
The flip camera module and big 5,000mAh battery add a considerable to the phone's weight, making both variants extremely heavy; Asus' last ZenFone weighed 190 grams. They're big and thick phones that weigh 230 grams. So extensive use of these heavy phones can make you tired — but it's not a big deal if you're one of those who like big phones.
The whole flip camera module houses in a superbly strong material, assisting the cameras to toss around promptly. This camera array is fabricated to endure up to 200,000 flips, which is definitely longer than you'll enjoy your ZenFone 7 for the coming years.
The power button that resides on the side of the phone doubles as the fingerprint sensor, so you can unlock your phone by tapping this button. It also allows you to customize shortcut actions such as access any app or a system feature like Google Assistant, Turn on/off Wi-Fi, Hotspot, Bluetooth; for double-taps, and press-and-hold. Asus names it Smart key. It's very pleasurable to press the smart key and volume button, you'll not feel something cheap or substandard.
When you pick the phone, the first thing that will catch your eyes is the delicately curved back made of Gorilla glass. The turquoise Asus logo there is a fascinating piece of branding. It's gradient design exhibits very beautiful shades of pink and purple when viewed from a particular angle. A black aluminum frame separates the back panel from the front and gives it a sturdier look which you can expect at this price point – even from more luxurious phones
Well, here's where the bad news comes in — the headphone jack — which is nowhere to be found on the new model. This is the feature of ZenFone 6 that has been changed — and not for the good. There's no water-resistant or wireless charging, either — you'll have to make do with 30W wired charging
The Zenfone 7 Pro comes packed on a box including two cases and a 30W fast charger, so you don't have to worry about the accessories if you want to buy this phone.
Software
When it comes to software, the phone runs Android 10 with Asus' proprietary ZenUI 7 on top. One of the excellent features is the cutting-edge battery care functionality that lets you trigger scheduled as well as slow charging to make the battery endure as long as possible. From the different battery modes, you can turn on the dark mode and fine-tune other power saving options as per your requirement.
Asus included a dedicated gaming feature named Game Genie to accentuate the gaming aptitudes of this phone. It allows you to set up your desired display refresh rate on the fly when gaming, turn off the notification, and hide status bar icons. As stated earlier the side-mounted smart key is also customizable for different quick actions.
If you want another way to secure your phone, Face Recognition is also there. But keep in mind that would not be very fast as the camera will be required to flip-up into the position that will take some time. If it is not annoying for you, it's a decent way to secure your phone. Otherwise, the Fingerprint Reader is very quick and perfect.
Cameras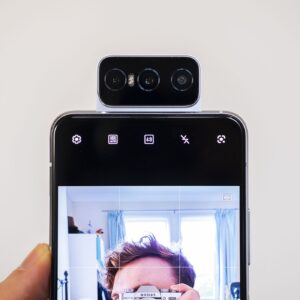 The flip camera is the key distinguishing feature of the ZenFone 7 phones. There is a very same camera system for rear and front. You can flip it up when you need a selfie. You can adjust the angle manually and select one of the four predefined positions. Just a tap is needed to get the camera flip into that particular angle. Actually you're having the same astonishing main camera array flipped up to function as a selfie camera. That's the second advantage of this camera system, we have already talked about the first one — the notch-free screen.
Both the ZenFone 7 and ZenFone 7 Pro pack a Main 64MP Sony IMX686 sensor, an 8MP 3x zoom Telephoto and a 12MP Sony IMX363 Ultra-Wide. By default, the main camera utilizes pixel binning and produces 16MP images. You can secure the full 64MP resolution if you want but without HDR. Astonishingly, you get the same sensors no matter which ZenFone 7 you choose, but only the Pro model has OIS (Optical Image Stabilization) for the telephoto and main cameras.
The camera system in the Asus ZenFone 7 Pro parcels a genuine knock. Images churn out detailed and with groovy vibrant range. The main 64MP shooter performs every task exceptionally well you assign to it, delivering amusing results with thorough details and pure colors. The ultra-wide camera is not behind and does a cool work. There is no swing in colors when you switch between ultra-wide and main camera.
The 8MP telephoto camera exhibits 3x optical zoom. It does a decent job in good lighting environments but else, noise commences to crawl into the images. Coming to the brighter side, there's a dedicated Night mode, which does a great job by revealing hidden details in the dark. But this mode requires a firm hand and 3 to 4 seconds of patience to get good quality images.
Asus has put a lot of work into making the ZenFone 7 Pro a camera phone and it has succeeded. All the necessary modes and options are present, neatly organized, and easy to access. There's an AI scene detection system, an automatic night scene shooting detection, a PRO mode, pre-autofocus, tracking autofocus, HDR, panorama, and much more.
Video shooting is also top-grade on the Asus ZenFone 7 Pro. You can record in 1080p right up to 8K resolution. It allows you in-video switch between main and ultra-wide camera without a glitch while shooting in Full HD. The slow-motion mode lets you shoot up to 480 fps (frames per second). And motion tracking is quite an interesting feature. You select an object and the camera automatically tracks it around the frame, zooming out and in when required. It works great, especially in good lighting environments.
Battery and Charging
The both ZenFone 7 variants include a huge 5,000-mAh battery, which should ensure a full day running. A 30-watt charger comes packed with the phone as well. Which as per Asus' claim should charge the phone up to 60% in just 34 minutes, and a full charge in just over 90 minutes.
Asus once again disappointed by skipping out the wireless charging. That said, the long-term battery health has always been on the company's top priority, and wireless charging can put a strain on batteries over time.
Should you buy it?
The ZenFone 7 Pro has far fewer compromises than its predecessor, which makes this phone an easier pick to experience the things which make it outstanding. It delivers a complete package. Its performance is lively; The almost borderless display, great battery life, and handy photo experience that the flip camera produces. But there're few hurdles on the way that may pause to some potential buyers.
One, this is a big and heavy phone that can be the mind changer for many people. And tipping the scale at 230 grams, it left behind the phones like Galaxy Note 20 Ultra which have an even larger screen. Second, the flip camera design makes the water-resistance out of reach. Third, the headphone jack is nowhere to be found. Fourth, there is no wireless charging.
But its flipping cameras are going to be the most attractive part of the phone, and these are unavoidably going to be the decisive factor for anyone planning to get this device. These versatile cameras give you a number of options that how you take photos.
So, in the end, it's the flipping mechanism itself that steals the show. It's a stunning feature. Despite the few drawbacks, the Zenfone 7 Pro is a phone for people who want cameras that flip.
Pros
Wonderful flip-able cameras that also turn into best selfie cameras
The notch-free 90Hz AMOLED display
Best performance by the best Snapdragon 865+
Remarkable 5,000mAh battery life
Cons
Big and weighty at 230 grams
The telephoto camera is not one of the best
No headphone jack, no wireless charging, no water resistance