TEAMGROUP launches graphene-heated T-FORCE CARDEA Z540 M.2 PCIe 5.0 SSD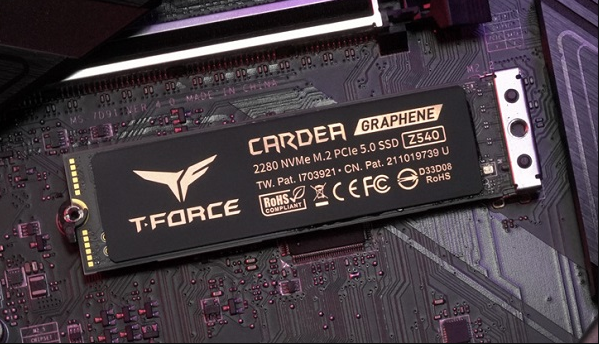 If you have a cutting-edge computer that is equipped with PCIe 5.0, you should probably invest in a solid-state drive that is compatible with your system in order to get the most out of it. You probably won't notice a difference in practical use between PCIe 3.0 and PCIe 5.0 solid-state drives (SSDs), but you might as well go for the greatest option if the price gap isn't completely absurd. PCIe 5.0 SSDs are primarily used for bragging rights and benchmarks. Today, TEAMGROUP is pleased to introduce a solid-state drive that has a speed rating of M.2 2280 NVMe M.2 PCIe 5.0. This solid-state drive (SSD), which is called the "T-FORCE CARDEA Z540," comes with a graphene heatsink for additional cooling.
This drive is only available in a capacity of 2 terabytes (TB), and it has read speeds that can reach up to 12,000 MB/s and write rates that can reach up to 10,000 MB/s. "An exclusive ultra-thin graphene heat spreader that integrates numerous patented technologies is included with the T-FORCE CARDEA Z540 M.2 PCIe 5.0 SSD. This spreader is equipped with the SSD. It is constructed out of graphene material that is one hundred percent recyclable and makes use of the benefits of hexagonal honeycomb lattice structures to swiftly and evenly dissipate heat horizontally. As a result, Z540 SSD is equipped with exceptional cooling capabilities "says TEAMGROUP.
In addition, the business states that "The ultra-thin graphene heat spreader that comes with the Z540 measures less than 1 millimetre in thickness and is compatible with a variety of PCIe 5.0 heatsinks for motherboards. According to the results of tests conducted in-house at T-FORCE LAB, the operating temperature of a Z540 SSD that utilises both a motherboard heatsink and a graphene heat spreader is 3–5 degrees Celsius lower than the temperature when using solely motherboard heatsinks. In addition, the CARDEA Z540 utilises the most recent intelligent thermal regulation technology, which is equipped with an integrated temperature monitoring system. This allows the device to automatically modify its performance and protect itself from overheating."