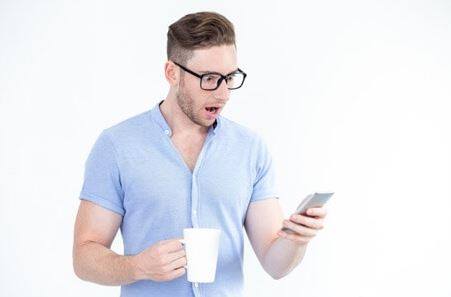 Are you failing to get the same hysterical reactions after placing 'Hit Me' notes on your friend's back? Although the classic pranks are still great to pull off from time to time, you're going to have a lot more fun with what prank apps currently offer.
Since the introduction of prank apps, playing practical jokes has never been more fun and convenient. With tonnes of new prank ideas being developed every year, you're spoilt for choice on how to fool your friends. 
Let's take a look at some of the best today!
Prank Call Apps
Ah the quintessential prank call, first done in the late 1800s when an undertaker is tricked into using his services. No prank list would be complete without at least one prank calling app, so we've decided to include two.
OwnagePranks
Although prank-calling never gets old and brings out the funniest reactions, not everyone can do them. Whether you're too shy or struggle to say the right words during a phone call OwnagePranks have what you need!
The OwnagePranks prank dial app is a fantastic application that comes with over 100 pre-recorded calls, automated to play when you make the call. Each pre-recording provides a unique and hilarious prank scenario- a disgruntled uber driver who arrives too early or a fundraiser asking for donations for her boob job. 
All pre-recordings on the app are recorded by professional voice actors including Russell Johnson himself, who predominantly voices many of the main characters from their famous OwnagePranks youtube channel. 
Since all prank calls are recorded, users can listen again and even choose to submit their best prank calls to the 'Pranks Hall of Fame'- an online community which features the very best submissions. 
Fake Call- Prank
Another prank calling app but not quite the way that you'd expect. You see, instead of making a prank call to someone you're going to receive one that's been scheduled and sent from yourself. 
So how does this equate to a prank? Let's say you're stuck in a boring, unnecessary work meeting and would rather have a beer with the guys. With Fake Call- Prank you can set up an incoming call immediately from a fake caller, and once you've finished the call, state an emergency has arisen and you need to leave. 
Of course, pranks aren't just limited to escaping awkward situations, since it's up to you on what type of prank scenario you create from your fake call. 
Other features the app has is the ability to create individual fake callers, allowing users to assign each one a unique name, phone number and image. Users can also record audio files to be played during phone calls, so conversations run smoothly and appear less suspicious. 
Prank Apps
Thanks to technological advancements prank apps have been able to push the envelope on the types of pranks you can pull. From scary pranks intended to get the best freak out moments to tricking your gullible friends into thinking they can charge their smartphones using solar power. 
Ghost Lens – Clone & Ghost Photo Video Editor
No longer will you need to learn photoshop to create some fantastic paranormal images to trick others, as the Ghost Lens video editor lets anyone make one. This app comes with an easy to use photo and video editor, using a split camera to create a faded clone of yourself and giving you access to a tonne of special effects and filters. 
A convincing effect includes adjusting the fade of your clone, giving a translucent look resembling a spirit and ghost. Users can also swap clone body parts, make them float and add scary music in the background.
This app is perfect for easily fooling people who believe in the paranormal, as effects appear far too convincing to have been done by yourself.  
Solar Charger Prank App
The Solar Charger Prank App will make it appear like your phone is charging using solar energy, displaying a fake solar charging panel in three different colors. 
This prank appears even more convincing when the phone's temperature appears on the top left corner of the screen while displaying the charging battery icon on the right-hand side. With beautiful effects that look genuine it's an easy practical joke to play, and once loaded simply place your phone under any light source to fool others. 
Panel temperature can be set to Celsius or Fahrenheit in the app's settings, along with switching the temperature option on and off.