The Revolutionary Display Panel by LG can be bent, folded, and twisted.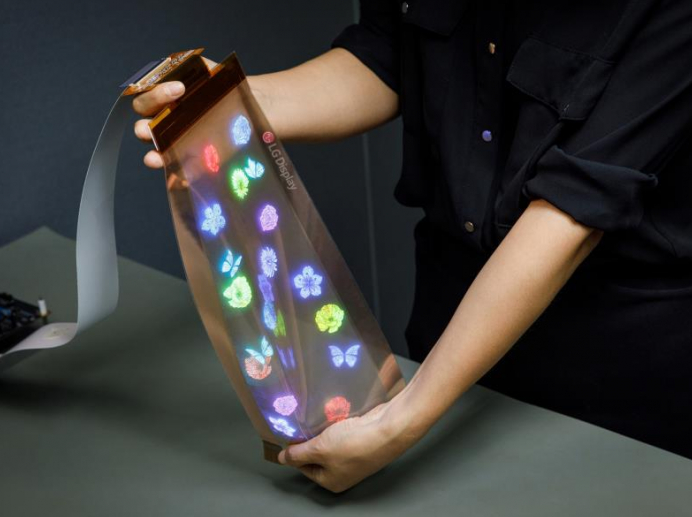 LG is no stranger to innovative display technology, having been one of the pioneers in screens of all shapes and sizes. However, the brand's most recent display panel is one of its most impressive yet, as it is not only capable of folding and twisting, but can also be stretched to make it larger to some extent.
This LG panel with a 12-inch diameter can be stretched by up to 20 percent and can reach a size of 14 inches before returning to its original dimension of 12-inches when the tension is removed. All of this can be accomplished without causing any damage to the panel. The innovative 'free-form' display screen might one day be implemented into a wide variety of smart items, including those with movable sections like furniture fabric.
When tugged, the entire system is able to expand because the stretchable aspect of the screen is driven by micro-LEDs. These micro-LEDs are connected to one another, rather than using straight wires, by S-shaped springs. The display screen also features a good resolution density for all of its physical abilities, which is approximately 100 pixels per inch (ppi) (pixels per inch). Because of this, as well as the fact that complete RGB support is provided, you won't actually have to make any colour sacrifices or struggle with pixelation in this case.
According to a report from GSMArena, the display panel is not only durable enough for a user to sit on it without causing any damage to the panel, but the article specifically acknowledges this fact. LG anticipates seeing the panel put to use across a variety of industries, including fashion, gaming, and wearables; but, the technology has the potential to find applications in a great many more domains.
This includes automobiles, which are currently undergoing an industry-wide shift toward smarter dashboards and features that make the in-car experience more usable and intuitive while also giving off a significantly more futuristic aesthetic vibe. This shift is being driven by the desire to make in-car entertainment and navigation systems more aesthetically pleasing.