Why Do People Party in Pajamas Sets by Sleeper?
The clothes we wear often serve as a self-expression tool. This is how we declare to others who we are, what we like and where we are going. But home clothes are more about comfort than declarations. Our home life is usually hidden from prying eyes and spared from other people's assessments: that is why pajamas and dressing gowns exist outside of fleeting trends.
Changing into your home clothes at the end of the day is a special joy. It doesn't matter if it's luxe pajamas, a nightgown, or your partner's incredibly soft T-shirt. Homewear should simply be as comfortable as possible – this is the only sufficient condition. At the same time, the clothes in which we sleep are no less significant than everyday things. Especially now, when work and personal space have mixed and a good dream has become like a small daily victory.
Because of this traditional attitude towards pajamas, when comfort is enough and style is optional, anyone in the recent past would hardly have thought that one day there would be pajamas designed not to sleep in them, but precisely to be comfortable at work or any other event outside your home. And the first one, who brought this invention to the public, was Sleeper. And now you can find pajamas set by Sleeper in many well-known shops.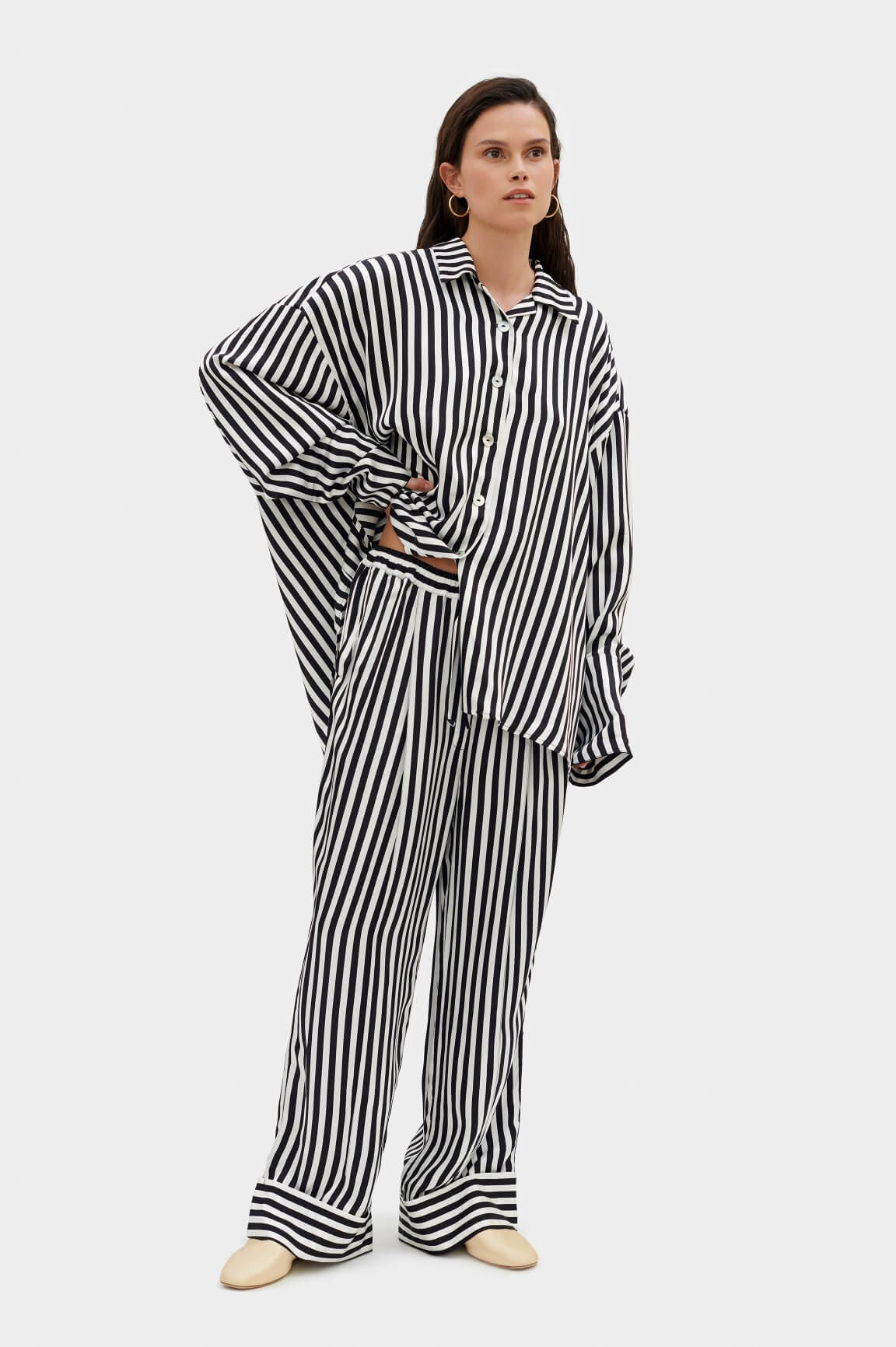 How feather-trim pajamas from Sleeper were conceived and created
Exactly 8 years ago, all the necessary steps were taken so that two truly brilliant women and the founders of the brand, Asya Varetsa, and Kate Zubarieva, fulfilled their idea and created this wonderful brand.
It all began, oddly enough, with one magical and so intangible, but an important dream. Kate, having already celebrated the coming 2014 and given all the gifts, finally went to bed tired. In a dream, she could see herself in the middle of a large building where workers made stylish pajamas. The next morning, she told her friend about her dream, and after that, they were determined to leave their current jobs and act.
Perhaps Kate might not care so much about this dream and leave it all like a simple vision, but she believed in the power of the intentions and how in a fairy tale she was able to achieve her goal. Thus, lounge suits and feather trim pajamas subsequently appeared, and became very popular all over the world, and even more so in the United States of America.
Of course, initially, it was necessary to arrange a marketing campaign in Ukraine, but from the very beginning the founders aimed at the world market as their idea captured the minds of many women and the brand began to quickly gain popularity in Western Europe.
The aim of the founders, when creating this company, was to give a woman the opportunity not to choose between home and street clothes, but to look simply stunning in home-type clothes (namely, pajamas), which initially does not provide such an opportunity by its definition of "Sleepwear". But the girls decided to break this stereotype and go their own way so that women can choose for themselves whether they want to wear these clothes around their home or whether they want to celebrate any holidays with them at work or with friends.
Brand and its quality
In each set of clothes and in each new collection, you can feel that special care and warmth that has been put in them, since the quality is monitored here most closely and any – even the smallest wrong seam is unacceptable. Only the person who is really ready to follow the idea of ​​the label and help to create each set of clothes with love and responsibility can get to work at the Sleeper factory.
"We know that elegant home clothes, delicious food, fresh bed linen, fresh flowers, and loved ones at the dinner table can create a HOME from any room," these are the company's values.
How the label took over the world
It is also very important to mention that Sleeper creates not only wonderful pajamas in which you will become a real party queen but also various other types of clothing, which correspond to the quality and the idea of ​​the main activity of the company. 
Here are some facts about Sleeper:
All other sets are also created entirely by hand and they can surpass any other well-known manufacturer.

All

Sleeper garments

are created exclusively from harmless materials, which means that allergic marks will not appear on your skin since the clothes are harmless.

Their products can be purchased at a wide variety of boutiques such as Urban Outfitters and Saks Fifth Avenue.
All these factors together help to carry out such a marketing campaign that the label simply cannot fail to gain popularity and public recognition. Thus, women who wear, for example, a blue pajama set will feel safe and comfortable, and will also feel the very freshness that will be created thanks to truly high-quality materials.
Customer opinion
Since the label is popular, it also has plenty of different reviews and you can find them both on the Internet and the pages of popular fashion magazines. You can even see a Sleeper pajama set among Emily in Paris outfits. 
Some customers love the design, while others love their clothes for their convenience, making them feel at home even on a cold street.
What can you wear from Sleeper sets?
Of course, the brand specializes in creating wonderful and very comfortable pajamas, but there are also many different interesting suggestions, ideas, and sets of clothes:
Women's dress

Lurex suits

Trousers with feathers
And many other types of clothing.