How to Cast from Windows to Roku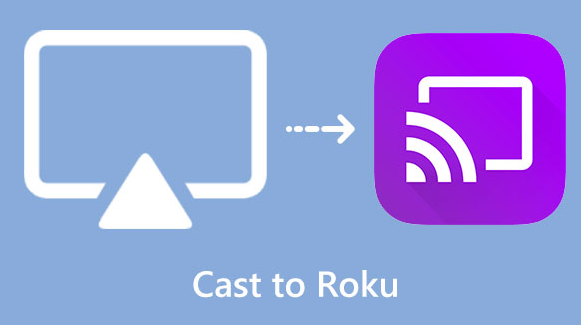 From your Windows 10 computer to your Roku TV, you will gain from screen casting. If you now conduct meetings on a smaller screen, you might prefer a larger screen if you work from home. You may use your Roku TV to provide your pupils engaging in-person and online lessons. The Miracast open standard, which is included in Windows 10, Windows 11, and Android, works with Roku screen mirroring. We may use the reliable Apple AirPlay on iPhones, iPads, and Macs. You may learn how to cast from Windows to Roku in this article. Consequently, let's begin:
Read Also: How to Cancel a Disney Plus Subscription on Roku
How to Cast from Windows to Roku
With the built-in "Connect" function from the Quick Settings in Windows 11 or the Action Center in Windows 10, you can cast to a Roku device from Windows. On both versions of Windows, the procedure is substantially the same; it is only located in separate locations.
1. First, select the network icon to access the Quick Settings in Windows 11 or the Action Center in Windows 10.

2. Click the "Connect" or "Cast" tile after that. If you're using an external monitor, it generally has "Wired Display" written next to it. You might need to change the Quick Settings or Action Center to add the tile.

3. Select your Roku from the list of networked devices now.

4. If you allow Screen Mirroring, a prompt requesting your approval will display near the bottom of the Roku screen.
5. With Windows, you may effectively utilize Roku as an additional monitor. After you've established a connection, the Windows menu will give you the choice of "Duplicate" (screen mirror), "Extend," or "Second Screen Only."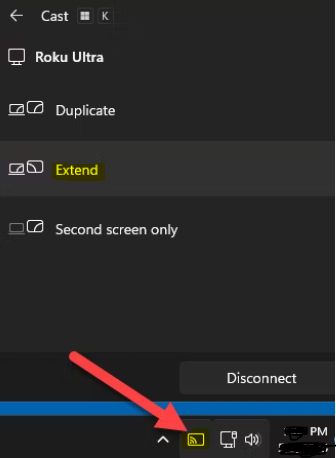 6. All there is to it is that! Clicking the tile again in the Action Center or Quick Settings to halt casting.
FAQs
Why can't I mirror my PC to Roku?
The mobile device or PC you are attempting to connect to does not have the most recent software version and is missing some files that could support your connection with a Roku TV. This is another typical cause of screen mirroring not working on Roku. As a result, you must make sure the most recent version is installed on your PC.
Can I cast my screen to Roku?
Install the Android Roku app first! Open the Roku app for Screen Mirroring. In the top-right portion of the screen, tap the cast icon. To connect, pick your Roku device.
Does Miracast work with Roku?
You may easily wirelessly display your desktop using your Roku's built-in Miracast screen mirror functionality. Prior to starting: Using Miracast, you may project your screen onto your Roku device. Verify that your Windows computer supports the Miracast service.
How do I find my Roku IP address?
Go to Settings > Network > About on your Roku device to see its IP address. Your Roku device is utilizing a public IP address if the IP address does not fall inside one of these private ranges. Public IP addresses are typically used when a router is absent from your network.
Is there an online Roku remote?
Once connected to a Roku, you can use a button to quickly launch apps (sorry, Roku Channels). To browse using the same buttons as those on your actual Roku remote but on a touch screen instead, open the Remote tab in the app.