How to Disconnect Spotify From Discord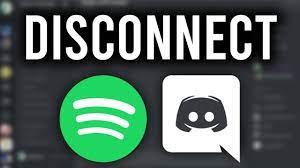 If you're like most people, you use Spotify to listen to your favorite music. And if you're like most people, you also use Discord to communicate with your friends online. What many people don't know is that it's possible to connect these two services together, allowing you to control the music playback from within Discord. While this can be a convenient feature, there may come a time when you want to disconnect Spotify from Discord. In this article, we will show you how to do just that!
Read Also: How To Transfer Server Ownership Discord
How to Disconnect Spotify From Discord
1. Open "User Settings"
The first thing you need do is go to "User Settings" and click there. On your desktop, the "User Settings" menu can be accessed by selecting the icon that looks like a gear.

Simply clicking on the profile picture that appears on mobile devices grants access to the "User Settings" menu.

2. Select "Connections"
The next thing you need to do is go to "Connections" in the menu. Here, a list of all of your associated accounts will appear for you to peruse.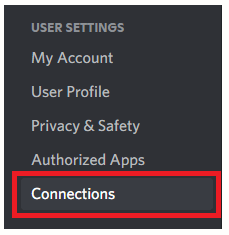 After you have located the "Connections" setting, proceed to the subsequent step by clicking on it.
3. Click on the "X" icon
After clicking on the "Connections" tab, you will get a list of all the accounts that are currently connected. The time has come to select Spotify from the list.
Once you've located Spotify, select it by clicking on the play button in the upper left corner of the screen.

A pop-up window will appear with the following text: "Disconnecting your account may prevent you from accessing servers that you have joined using this account." To delete Spotify, choose it from the menu and then click the "Disconnect" button.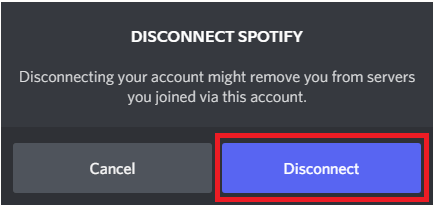 FAQs
Is Spotify automatically connected to Discord?
To link the accounts, you need to click the Spotify icon that is located at the very top. When a new window for your browser pops up, log into your Spotify account. Be aware that doing so will immediately grant Discord access to your Spotify account; if you are wary of such things, you should proceed with caution.
How does Discord know you are listening to Spotify?
When you have approved the connection between your Discord and Spotify accounts, the "Connections" section of Discord will reflect the fact that Spotify is linked to the platform. Additionally, there will be a badge on your profile in Discord that displays your username on Spotify (you can turn this off in the Connections menu).
Does Spotify show on Discord invisible?
If you have your Discord status set to invisible, it will occasionally prevent your Spotify status from being displayed on your profile.
Does Discord show Spotify when invisible?
Yep yep! Only you will be able to view your current Spotify (or in-game) status if you have "invisibility" enabled.
How do you control Discord music bot?
Launch Discord and navigate to the "Menu" option. Select the server that you installed the bot on from the available options in the list. Enter the command that informs the bot to play the music when you have joined a voice channel. The instructions for using the bot are available on its website.
Why can't I listen along on Spotify Discord?
If clicking the play or listen along button does not work, try selecting a device in your Spotify client or playing a song on your Spotify client so that Discord knows what device you are using to listen to Spotify. If Discord detects that you are playing a game, that game will take precedence over your status, and Spotify will no longer be displayed.