How to Fix Hulu Not Working on Roku

If you stream Hulu using a Roku streaming device or your television, you may have intermittent loading or crashing issues that are never-ending. These troubles are frequently caused by issues with an out-of-date Roku system or Hulu app software.
However, while repeated crashes and unsuccessful loading are irritating, these behaviours are usually simple to correct. If you have any of these Hulu road bumps on your Roku device in the future, try these solutions.
Read Also: How to Cast Hulu on TV
Why Isn't Hulu Loading?
When it comes to this problem, it is possible that a bad internet connection is to blame. This is especially true if you are encountering similar issues with other Roku apps.
Another possibility is that your Roku no longer has a working connection with Hulu. The most recent version of the Hulu app for Roku is available on newer Roku streaming devices and televisions, as is the most recent Hulu feature set. When using an earlier Roku device, you may find that you are unable to start or use Hulu after a specific period of time. A system reset or an update to the most recent Roku operating system may also be required for your Roku device.
Why Does Hulu Keep Crashing on Roku?
The most common reason for Hulu crashing on Roku is an out-of-date or corrupted application. You should be aware that if you're not encountering problems with other channels and you're not seeing any playback errors, it's likely that the Hulu channel itself has to be addressed.
One of the quickest solutions is to check for a new Hulu channel to stream. If there isn't an available update for the Hulu channel, it may be necessary to uninstall it and reinstall it.
How Do I Reset Hulu on Roku?
The Hulu app on your Roku device can be reset by locating it and pressing the star button on your remote control, which will offer a menu of channel selections. Remove the channel by selecting it from the drop-down menu. Then, from the Settings > System menu, restart your Roku. You should then reinstall the Hulu channel when your computer has been reset.
How to Fix Hulu on Roku When It Won't Open or Load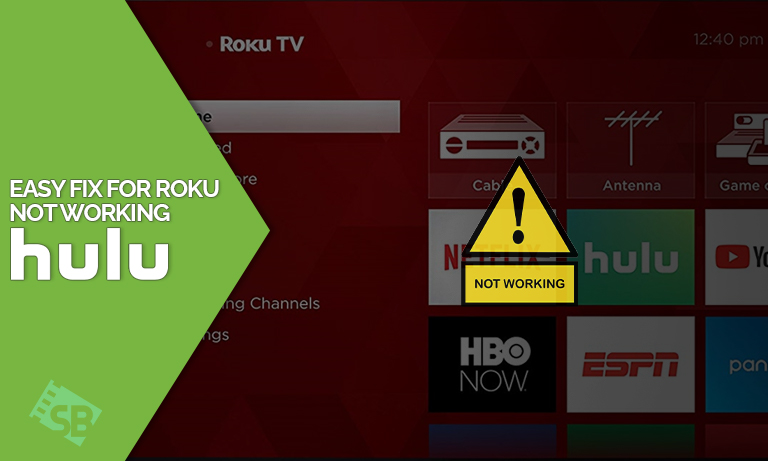 If you can open the Hulu app but it won't load or play content, try these troubleshooting steps.
Examine your Roku network. If your internet connection is slow, the Hulu app may not load. To check your connection, go to Settings > Network > Check connection. If you lose connection, check your router.
Hulu is down. Once you've ruled out a connectivity issue, check to determine if the issue is widespread. The Hulu support account on Twitter or an app outage site can tell you if it's a platform issue.
Hulu Channel Update All Roku channels must be updated. You can check for system updates on Hulu's support site. Also, on Roku, highlight the Hulu app, push the star button, then select Check for updates.
Reinstall the channel. If you don't see a Hulu channel update or that doesn't work, uninstall the programme and restart your Roku to erase its memory. Then reinstall the channel and try again.
Check for a Roku update. This step may not help if your issue is exclusively with Hulu, but it's best to keep your gadget updated. Check for system updates in Settings > System and install them.
Check your Roku's Hulu compatibility. Some older Roku devices may no longer receive support from the newest Hulu app for Roku. Confirm which app version your device supports and whether you need to update your firmware.
Hulu customer service. If none of the other options work, contact Hulu support. They may have addressed this with your model, Hulu app build, and current firmware version. You can also submit a tracking code by tapping the home and back buttons five times. This code may offer more information about the loading or crashing issue.
Video