How To Make A Good Deck in Clash Royale – Build A Great Deck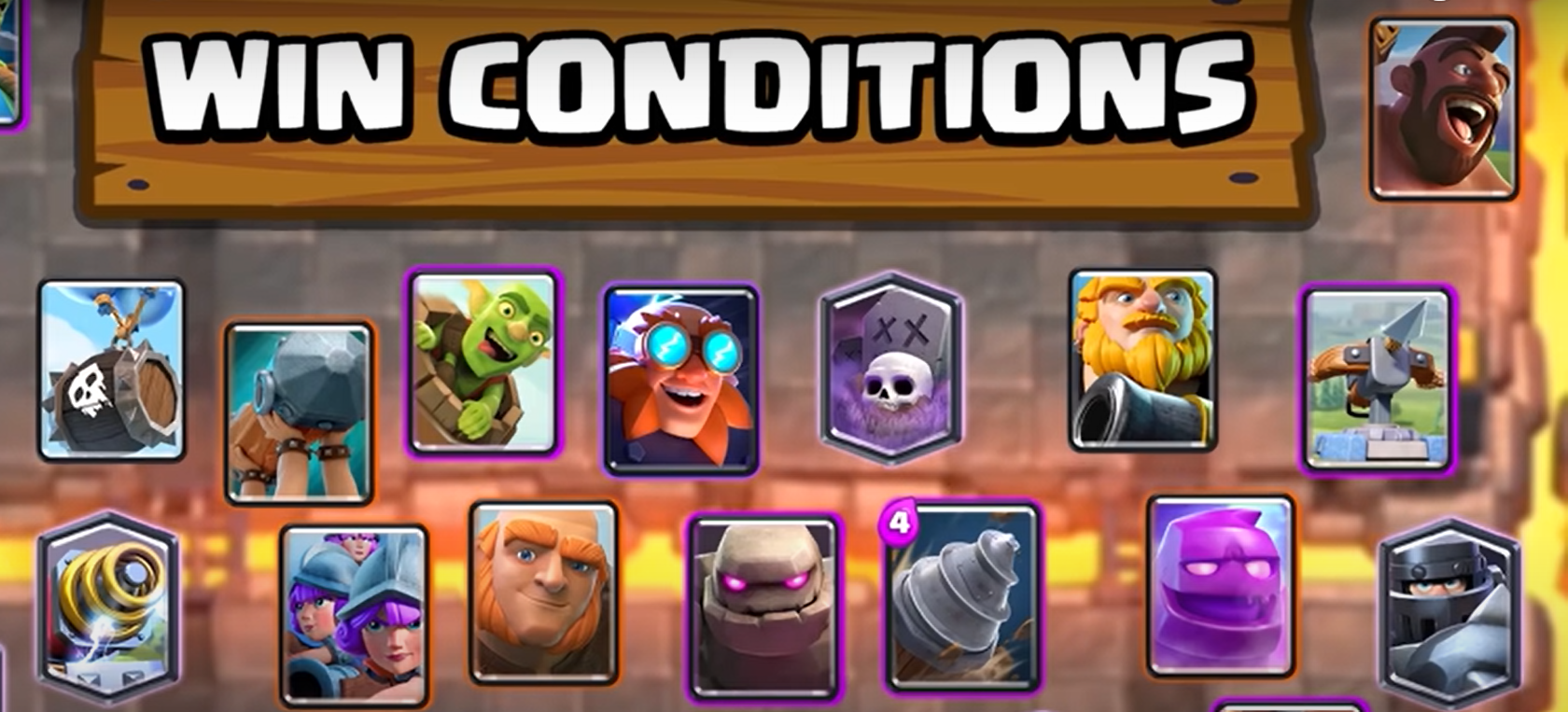 Clash Royale is one of the most popular games of all time. It is an intriguing game that is based on planning strategies and plans. very popular strategy-based game. The players have to put in a lot of effort and technique to win the battles in the game. You also have to defeat your competitors in the game to beat the levels.
How to create the best deck in Clash Royale
To win the game you must have the perfect troop collection. If you want to maintain a good troop collection, then you must have the knowledge to match the right cards. This will allow you to create strong combinations. By matching the right cards, you will be able to dominate the levels. In this guide, we will be teaching you to make a good deck in Clash Royale.
Create A Strong Deck In Clash Royale
We will be providing you with two effective methods to create a strong deck in Clash Royale.
Method 1
Pick a strong card 
If you want to make your position strong in Clash Royale, then it is best to choose the card of win condition. The players must choose the card that can damage the situation of the opponent the most. The towers of the opponents must be damaged and you can do so by targeting their buildings. The buildings come with good health but you can still teach the towers without any trouble with the help of the right card. Building a deck around winning conditions becomes easy and simple. This will allow you to get strong in the arena you are currently residing in.
Here are some of the win condition cards that will allow you to get stronger and build a strong deck:
Hog Rider
Ram Rider
Electro Giant
Royal Giant Balloon
X-Bow Miner
Mega Knight Golem
Graveyard, Sparky
Three Musketeers
Choose the right archetype deck 
Every player in Clash Royale has to create a deck consisting of 8 cards. These cards must be chosen before every battle. Archetype is the type of deck that you create before each battle. The deck archetype must be strong and should have all the right features to support your win condition. It should be able to counterattack the moves and strategies of the enemy. Every archetype has its weakness and strength. You can choose from a variety of deck archetypes but it is best to choose from the major ones. The strong deck archetypes are:
1.      Beatdown decks
Beatdown decks help to overpower the tower of the opponents. They increase the chances of your win as they have a high rate of win condition. The cards like Golem and Giant will help you to damage the troops. You can also get the chance to back up your attack with the help of the deck type. You can build a great elixir advantage and can use the enemies to attack all the towers of the opponent.
2.      Control decks
The Control decks are the best decks that help the players to defend against the attacks. You can continue your fight and judge the moves of the enemies with the help of a map. The control decks offer the best defense and will help you to use the buildings that help with your defensive moves. The control decks use the elixir feature to counter the huge pushes. They will help the players to banish the towers of the opponents. These decks work until the towers get damaged.
3.      Siege deck
Siege decks allow the players to maintain a strong and offensive winning condition. The attacks made from your side will force the enemies to defend from your map side. You will keep on defending offensive buildings as this will allow you to damage the towers of your opponents.
4.      Hybrid deck
Hybrid decks are designed with two kinds of archetypes. They provide a winning condition for your game. They can also be hard to be defended. The opposition might find it hard to defend and compete against it.
5.      Cycle deck
The cycle deck is a cheap Control deck. It will recycle your winning condition and will make you win faster against the counter of your enemy.
6.      Spell Bait
Spell bait will allow you to make a hybrid deck. They use hordes to create a win condition. These decks will force your opponent to drop using their spells. You can attack them with hordes which will lead them to be unable to attack you anymore.
7.      Bridge spam
Bridge spam is the perfect combination made by the Royal ghost. The dark Price, Bandit, Battle Ram, and the Ram rider cards help you to create this archetype. The deck will help you to give the best punishment to the players. You can invest in the elixir and can rush out the combos to create a tower quickly.
8.      Splitting lane
You can add more cards to the split and can create a unique card deck. The archetype has gained a lot of popularity due to its threatening pushes. Your opponent will have to defend all the sides simultaneously.
Look out for the average elixir cost
One of the best decks ranges from 3.0-to 4.0 and comes at a cost of (AEC). You can find some other decks that come at a higher or lower price. If you get cheap decks, then they perform faster. They have fragile troops and this might not be a good choice. The heavy decks tend to have a slower playstyle.
If you choose the average elixir 4.0 then you can consider getting the elixir collector to create your deck. You will be able to collect more elixir and will be able to make your troops faster. This could be an expensive card. The Cycle decks can be as low as 2.6. This type of playstyle will be required to make your winning condition favorable.
Create an impressive play style
If you are looking for a fast deck that attacks the opponent continuously then you should build a deck that has great momentum. All Troops come with a range of movement speeds. The fast decks include the speedy Hog Riders and the Goblins. The slow decks are Golem and the Executioner.
Keep a solid counter for everything
You can arrange for some troops that can attack the air and do some splash damage. If you have more than one troop at a time it will help you have heavy single-target damage. The players must have each one of them on their deck to make it more effective. If you are looking to create some troops they include Musketeer, Minions, and Mini Pekka. Moreover, if you are looking for splash attackers they are Wizard, Witch, and Bowler.
Think about The Meta & Create A Counter
Meta happens to be one of the most efficient tactics available for the players. They are commonly used in a large arena or league. When you know the Meta it will help you craft your deck with ease. However, you must make sure that your deck isn't weak, or else you cannot counter the attacks. Your opponent may use some other Meta options that are powerful as compared to yours.
If you see a lot of competitors running for the log bait, they are after your trophy range.  To counter this attack don't forget to run the small spells inside your deck. You can choose from the list of Tornado, Zap, Arrows, Barbarian Barrel, and Giant snowballs.
Method 2: Fill the Individual Roles
1. Choose Support Cards to Win
When you choose support cards it will complement your win-win situation. Similarly, it will help defeat your opponents like never before. You can try out different methods to create a winning strategy inside the game. You will need to give your cards some support as they are usually glass canons or a splash unit. Here is an example of the understanding of players. Wizard is compatible with P.E.K.K.A and will remove the swarms effectively.
Some other support cards include Valkyrie, Musketeer, Witch, and Electro Wizard. Other winning condition support cards are known as fire ballies. They can survive in tough conditions and have an equal fireball. It also offers a sliver of health for the players.
2. Select a Few Defensive Cards
The defensive cards generally move slowly and will protect the towers efficiently. Some have swarms that feature low health cards too. It can give a lot of damage if you don't take care of your strategies. Some of them include Ice Wizard, Barbarians, Minion Horde, and Skeleton Army.
3. Look For The Best Cycle or Utility Cards
The cycle cards are affordable and will cycle your deck for the better. You can use your cards conveniently and can counter almost any other card too. It will help the player make a positive elixir trade and take on your opponent successfully.
When you have more elixir than your competitor it will help you get some winning points as well.  The wide range of Cycle cards includes Ice Spirit, Skeletons, and Bats. While some utility cards include Spear Goblins, Minions, and Fire Spirits.
4. Add One Building
When the player adds a building this will work as an integral part of their defense. Many buildings will keep troops periodically.  While some others can do the damage against the enemy troops too. Many decks have either one of these.
The Inferno Tower can do damage that lasts for a long time. If we talk about the cannon it is rather a cheap option. Players can use it efficiently to kill the hog rider and defend the small pushes they get while doing it. Tesla will target the air and it is a dangerous cannon.
The bomb tower will splash the damage as it carries the death bomb. Once it pairs well with Tornado the damage may become bigger. The barracks include spawns Barbarians and Goblin Hut spawns Spear.
5. Players Must Put At Least One Spell on the Deck
The player must keep at least one spell inside their deck. It offers a direct message while it happens to be useful for finishing the towers. You will be surprised to know that they all have different effects and costs at the same time. Most decks have either two while some of the decks have three in common. Some of these spells can affect the troops directly or indirectly.
The heal spell can heal all your troops even when they get injured inside the game. They have to gain back their energy once the rage will increase the speed of movement too. Even the attack speed will have a direct impact on it. When it comes to the freeze spell it is a good way to stop all the troops in one place. However, the clone will copy the troops that feature only one hit point.
6.  Avoid Using More Than Four Dead Cards
You must avoid using more than four cards in the game. It will be difficult to play it as a first move or a cycle in the back. When you have all of them in your hand at the same time it will not be easy to play the game. At this point, you may have to force yourself to leak or make a very challenging move right there. For example, you cannot afford to cycle Inferno Dragon at the back right at the start of the game.
It will help your competitor play a lava hound in the opposite lane. Due to this, you have no good counter left for your survival. Whether it is the Golem or any type of heavy spell, it will be challenging to look for the right one. Some are dead cards and it doesn't give any other option than to attack.
The three elixir cards include a list of Ice Spirit, Archers, and Goblins. You can include them all on your desk and keep playing with them without any fear. It doesn't mean there will be no response for your opponent's cards.
Conclusion
If you want to make a new deck you must have at least 8 decks at the arenas 12. While you need level 10 cards at 4000 plus. You need not feel the pressure and stick to only one deck. Try various ones and check out what suits your style!