Start Allegiance Quest in Destiny 2 – How to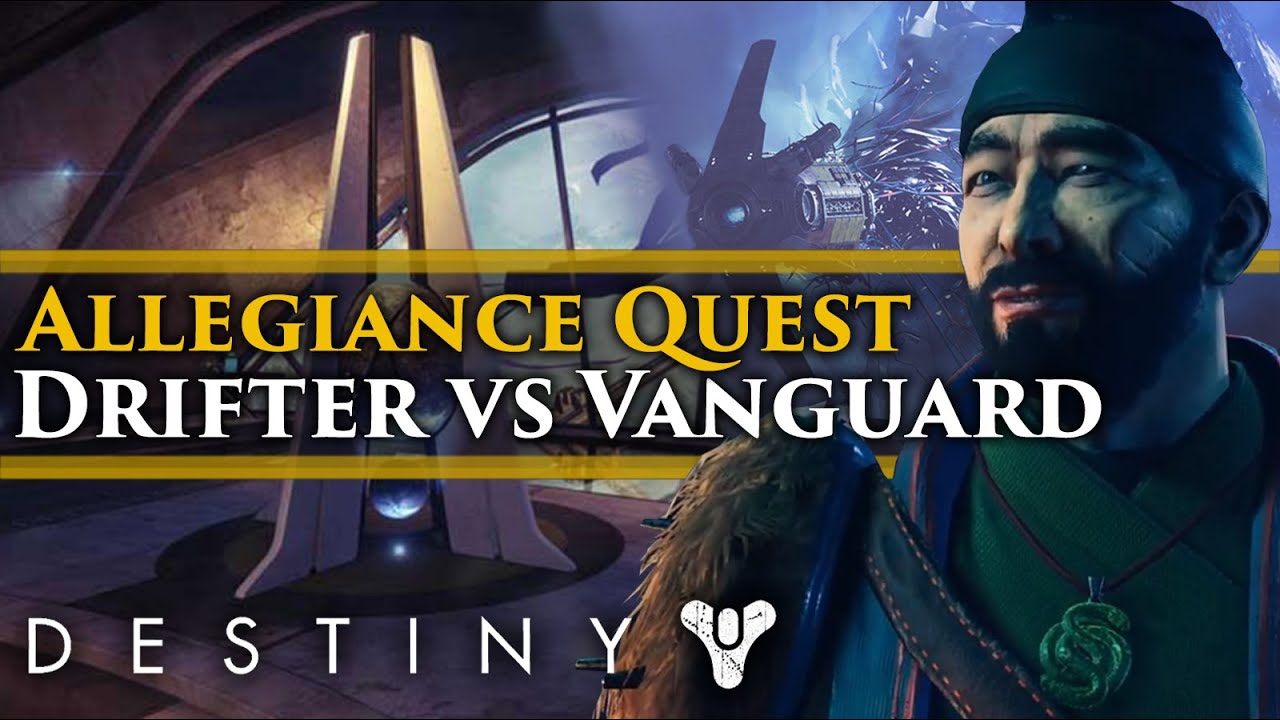 In this article we are going to tell you what are the steps and rewards that are waiting for you in the Allegiance quest. Destiny 2 has launched Allegiance quest officially for its players during the past week. In this quest players will have the choice to choose one of the characters as their ally that include The Drifter and The Vanguard. You'll have one of them as your ally. Coming missions in the game will depend upon you character choice as selecting The Drifter will give you unique missions and selecting.
The Vanguard as your ally will set you on a different path. Also, depending upon the quests, the reward will be different too. Another interesting thing that has been added in Destiny 2 is that it teases the players by showing that their choice may have consequences in the future in game.
Destiny 2 Allegiance Quest
To begin the Allegiance quest, you simply have to meet The Drifter. During his talk with him, he will give you a choice to either side with him or select The Vanguard. You'll get the information of the quests and rewards that lies ahead for this quest as both characters will give unique missions with distinct rewards. The Drifter will not forget this choice and it will affect your performance to unlock a specific lore book.
After you make your choice, you'll be able to see the quest in "Pursuits tab". Each quest will require multiple steps to complete. If you take The Drifter's side, your reward will be: one piece of Gambit gear and one of each types of Gambit Prime Synths. Although, if you prefer Vanguard, the reward at the end of the quest will contain one piece of Vanguard gear, one Enhancement Core and Boon of the Vanguard consumables.
You'll receive the same reward each week from either The Drifter of The Vanguard. Don't forget that these rewards are extremely useful and they can help you rank up in the game. There is down side to if you pick The Drifter. You won't be able to complete lore book called "The Warlock Aunor". There is a way to enjoy both quests and that is by allying different characters to each of them (Drifter and Vanguard).
How to start the Destiny 2 Drifter Allegiance quest
To begin the Drifter Allegiance quest, visit the Drifter at his new home in the Tower. On the off chance that you haven't just finished the basic quests for Gambit Prime – finish an abundance, bet a bit in The Reckoning, and so on – you'll have to do those first. From that point forward, the Drifter will give both of you emblems provoking you to "Remain with the Drifter" or "Remain with the Vanguard." Naturally, you'll need to choose the Drifter's emblem for this, not the Vanguard's.
Complete the Thief of Thieves Adventure
Since your wallet is 50,000 Glimmer lighter, you'll have to finish a 650 Power variant of the Thief of Thieves Adventure on Titan. This Adventure can without much of a stretch be found on your guide, and it plays out precisely like the ordinary adaptation: murder some Fallen flexibly criminals, find a busted transmat reference point, execute another Fallen cheat, at that point shield the signal from a couple of rushes of Fallen.
Get 25 murders in the Crucible
After the Adventure, the Drifter will instruct you to bring some damnation up in the Crucible by slaughtering 25 Guardians. In this way, put on your #1 PvP loadout and begin shooting. It doesn't make a difference what playlist you run or what gear you use, simply that you're piling up murders.
Bank 50 bits in Gambit
It wouldn't be a Drifter quest without a little Gambit, so whenever you've slaughtered a few Guardians, you'll have to bank 50 bits in Gambit or Gambit Prime. I suggest running Gambit Prime for this progression, as it includes all the more testing foes who drop more bits, including high-esteem focuses on that make it simple to gather enormous amounts of bits without a moment's delay. Gambit Prime likewise includes a higher bit cap and more limited matches than ordinary Gambit, so you ought to have the option to take out 50 bits in one or two games. On the off chance that you have it, you can likewise utilize Collector reinforcement to make snatching bits simpler. All things considered, ordinary Gambit will turn out great, so play whatever you like.
Check out more Destiny 2 Guides below:
Who would be your first preference from The Drifter and The vanguard? Do tell us the comments section below.