How to Stop Twitter Emails on Your Computer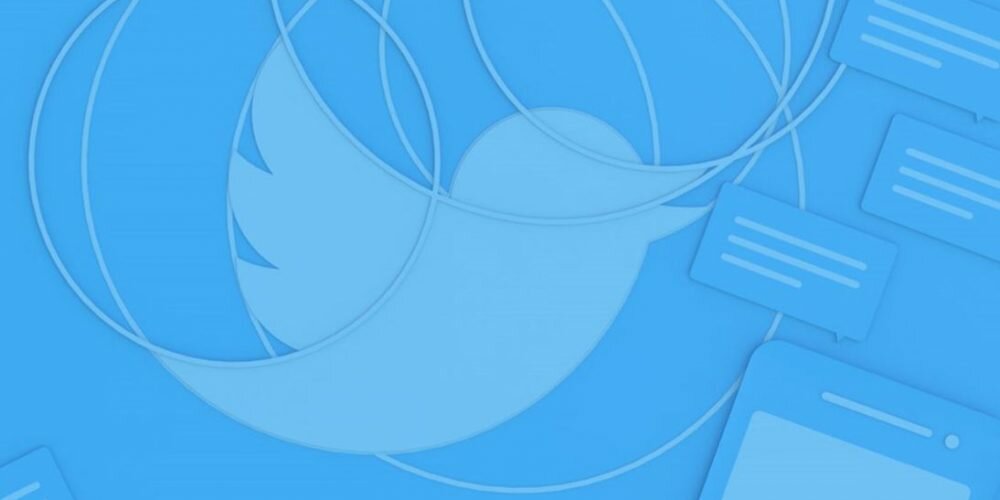 Your inbox on Twitter, along with Facebook, Instagram, and the vast majority of other social media sites, can quickly become inundated with emails that are designed to pique your interest in current events and entice you to return to browsing through your Twitter feed. These emails can also be sent to a vast majority of other social media sites. You can easily turn off Twitter emails with just a few clicks or taps, which will enable you to stop receiving these emails and make your own way through the Twitterverse on your own without anyone else's assistance.
Read Also: How To Save Twitter Videos
How to Stop Twitter Emails on Your Computer
1. Open up your Twitter account and navigate to your profile page. To view your profile, click on your photo.
2. Select More from the drop-down option on the left side of the screen. Do not select Notifications from this initial selection; doing so will send you to Twitter's notifications, but it will not give you the option to disable email alerts.
3. Select "Settings" and "Privacy" from the drop-down menu that appears.
4. Select Notifications from the menu. On the right, you'll see an option labelled Notifications.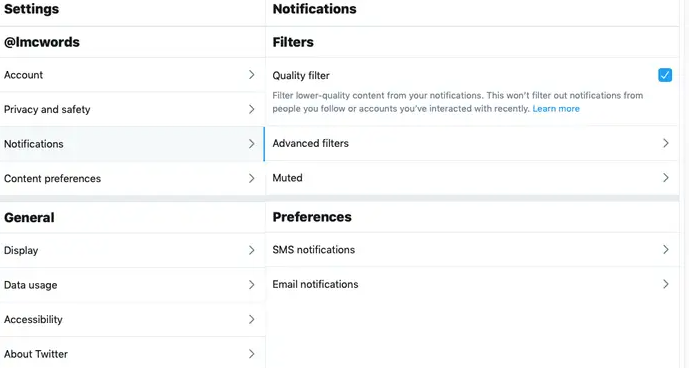 5. Click the Email notifications link located in the Preferences section. The new screen that appears provides you with a comprehensive list of alternatives to choose from.
6. To deactivate all incoming email notifications, drag the blue dot located at the top of the screen to the left. You will no longer get any Twitter emails, and all of the options that are currently visible below will turn grey.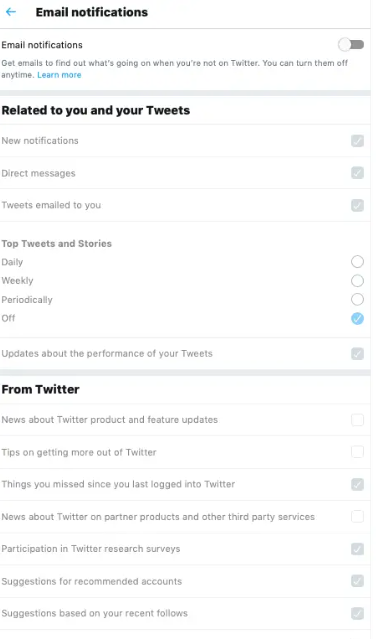 7. If you wish to adopt a more nuanced approach, you can keep Email notifications turned on while also checking the boxes below to be more selective about the kind of emails you receive and the frequency with which they are delivered.
8. Keep in mind that if you have more than one Twitter account, you will need to repeat this process for each profile in order to cancel all of your Twitter email notifications.
You may also control how you are notified through SMS by going to the Notifications > Preferences menu.
You can also stop receiving emails from Twitter by clicking the "Unsubscribe" option that is located at the bottom of each email sent by Twitter. However, this will only unsubscribe you from emails containing Top Tweets and Stories; it will not stop you from receiving other notifications from Twitter.
FAQs
How do I block Twitter from my Gmail?
Open the unwelcome email from Twitter, then click the "Block" option on the messages toolbar after you have signed up for a Block Sender account and linked your Gmail account to Block Sender. To view emails sent by the sender, select the "Emails from this sender" option.
How do I unsubscribe from all Twitter?
Visit https://app.clean.email/ in order to create an account for yourself. Click the Unsubscriber button once you have successfully connected your account. Check the boxes next to the subscriptions you no longer require (in this case, Twitter emails.) Simply click the Unsubscribe button to ensure that you are no longer exposed to these messages.
How do you stop receiving emails
Launch the Gmail application on your Android-powered smartphone or tablet. Launch one of the emails sent by the sender whose messages you wish to stop receiving. Tap the Unsubscribe or Change preferences button that is located at the bottom of the message. If you do not see these alternatives, it is because the sender did not provide the necessary information for you to unsubscribe.
How do you block emails on Gmail on laptop?
Open a message that has been sent to you by the undesirable sender. Choose "Block [Sender Name]" from the dropdown menu that appears next to the message. Please reaffirm your selection.
How do I stop spam emails on Gmail?
Delete undesirable email senders from your inbox. When you block a sender, messages from that sender are moved to the Spam section in your inbox. Go to Gmail on your computer right now. Please read the message. Click Block "sender."