Insights and Analytics: Using HubSpot Call Centre Integration Software to Harness Data
Learn how Hubspot call center integration software can upgrade your call center operations with the help of valuable insights and analytics. Explore ways to improve client relationships, expedite data gathering, and optimize sales and marketing tactics using data-driven insights.
Call center analytics and overview of Hubspot call center integration software
Turning unprocessed data into useful intelligence is known as call center analytics. The overall performance of a call center depends on the number of calls and the average waiting and handling time of the calls. Some other factors like staff performance, operations, customer satisfaction, and others are also important for businesses. Call center analytics can be used by decision-makers to obtain desired goals.
By integrating the call center with Hubspot you can personalize customer experiences, improve customer interactions, and reduce agent guesses. You can improve your business performance by reducing useless operations like your agent does not need to navigate numerous apps or screens. They can perform all the tasks using a single screen with a single touch. Hubspot call center integration has enabled remote working which made your business boundary free. 
Benefits of Using HubSpot Call Centre Integration Software 
Call center integration with HubSpot has uncountable benefits a few are discussed here: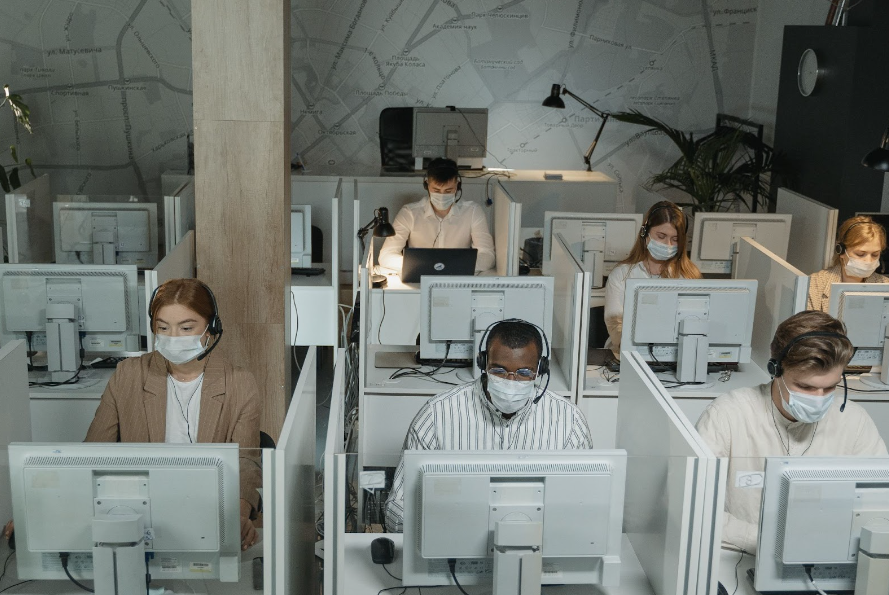 Increased agent productivity and performance:
Agents play an important role in the growth of a business. Hubspot call center automation has enhanced agents' productivity by offering features like click-to-call, and power dialer and allows them to handle higher call volumes.
Improved user experience:
HubSpot Call Centre Integration Software has tremendously enhanced user experiences. Call center integration with Hubspot CRM has enabled personalized interactions of customers with agents and enhanced efficient issue resolutions. This ultimately improved customer satisfaction.
Flexibility and scalability
Hubspot integration with the call center can scale business growth. It offers integration with other tools and software with quality performance. This ultimately leads to an increased number of calls, agents, and customer interactions.  
Better Decision making
With powerful call analytics and reporting capabilities, you can make data-driven decisions. Hubspot call center management integration provides clear and valuable insights to check call center performance. You can easily track identity trends and key metrics and improve overall efficiency.
Moreover, it is cost-saving, provides unified customer data, and seamless collaborations and coaching. 
Key Features of HubSpot Call Centre Integration Software 
Hubspot call center integration has provided various valuable features which made things easier and increased the overall efficiency and productivity of businesses. 
1- Call analytics and reporting 
Measuring performances and making data-driven decisions have been made easy with the help of Hubspot call center integration software. It provides robust analytics and reporting features. 
2- CRM Integration
You can now access customer data, relevant information related to clients, and their history using CRM integrations. Agents can provide personalized services to customers by using the HubSpot CRM  ecosystem.
3- Workflow automation
With the help of this software, businesses can automate workflows and duties in response to call outcomes or particular triggers. It also automates post-call chores, such as reducing time, making tasks, and contact record updates, follow-up emails, and guaranteeing consistency in follow-through.
How to Harness Data with HubSpot Call Centre Integration 
You can now harness your data with Hubspot call center integration by setting clear objectives, defining your data, and discovering key metrics. Set KPIs according to your business standards that will help you in harnessing data. There are various other options such as:
By taking the initiative and improving them periodically: Hubspot call center integration software will help you assess and review collected data. It also helps to identify areas that need attention and improvement. With this information, you can optimize processes, refine customer service strategies, and implement targeted training programs. 
By Leveraging the integration capabilities: Combine all the data with customer relationship management with HubSpot integration software. You will get a holistic view of customer interactions and track valuable insights for better decision-making.
With Predictive analytics algorithms: You can foresee client needs, improve resource allocation, and spot possible problems utilizing call center data and predictive analytics algorithms. Using these predictive analytics, you can also forecast call volumes, find cross-selling and upselling opportunities, and anticipate client churn.
By customer Insights: You can segment your information, deliver targeted marketing campaigns, and personalize communication by analyzing collected data. Hubspot integration capture data during calls based on demographics, previous interactions, purchase history, preferences, and behavior.
Limitations and Challenges of Using HubSpot Call Centre Integration Software 
However, Hubspot call center integration software has made business processes and operations easy but has some limitations too. 
Due to the complexity of the processes, implementation of HubSpot call center integration is challenging. Organizations and infrastructures already have call center systems face more difficulties in implementation because of technical know-how and resources. 

Despite technology and advancement Hubspot call center integration has limited functionality and features. Customization options are limited. If you have a unique system for call centers, you will face challenges implementing it into your infrastructure.

Costly system because of the installation fee, maintenance, training, and ongoing support for effective and efficient usage

You may face compatibility issues while installing Hubspot call center integration software with existing CRM platforms and telephony systems. It will require careful planning and configuration to ensure seamless data transfer and synchronization between the two systems.
FAQs: 
1- How can we collect and organize data with the help of Hubspot call center integration software?
It offers streamlined data collection and organization features. You can easily collect and organize data for valuable insights to improve your business growth and customer relationship. 
2- Is our data safe when using Hubspot call center integration software?
Hubspot provides robust security measures to maintain data privacy and protect customers' sensitive information.
3- Can we integrate existing systems and CRM platforms with Hubspot call center integration?
Yes, you can combine it with your current systems and CRM platforms. A complete picture of client contacts is possible thanks to the synchronization and effective data exchange capabilities of Hudspot integration software. 
Conclusion 
Hubspot call center integration software to harness data provides priceless advantages. Utilizing this data, you can make wiser and better decisions, increase the operational effectiveness of your business, and improve customer experiences. With the help of this software, call centers can make the most of their data, enhancing customer satisfaction, productivity, and long-term growth. You can remain on top of the game by providing excellent services using insights and analytics from this software.