Corsair One a100 Review | The Most Powerful small-form-factor Gaming PC
Here is the latest iteration of the Corsair ONE bionetwork: the a100. This compact small-form-factor machine packs a Ryzen 9 and GeForce RTX, the most powerful hardware in a small column-shaped 12-liter water-cooled enclosure. The new One a100 is the first AMD-based One and is intended exactly for gamers, though it could easily pull double duty as a content-creation powerhouse.
Specification and Features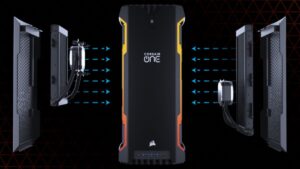 In One a100 Corsair features the two: the Ryzen 9 3900X and the Ryzen 9 3950X; core-heavy desktop CPUs, and two top of the line GPU models: Nvidia GeForce RTX 2080 Ti and Nvidia GeForce RTX 2080 super; in three different configurations. The Ryzen 9 3900X has 12 CPU cores and 24 threads and ticks with a 3.8 GHz base clock and 4.6 GHz boost clock. The Ryzen 9 3950X is the flagship 16-core, 32-thread part, and checks in with a 3.5 GHz base clock and 4.7 GHz boost clock. The two 7nm processors boast native support for the PCIe 4.0 interface and DDR4-3200 RAM modules.
The Corsair One a100 that we got in for review is $3,999 packed with an AMD Ryzen 9 3950X, an Nvidia GeForce RTX 2080 Ti, and a 1TB SSD. Now combine that with 32GB of DDR4 RAM, you'll get an absolute beast that's afraid of nothing, no task is too much, no game is too much. However, that's a lot more expensive than other configurations, and It would be not wrong if we say the Ryzen 9 3950X is overkill for gaming unless you plan to do some serious multitasking on the side. But considering just how much of a jump it is in raw specs, it's really not that bad.
To back up the powerful and costly processor and graphic card there are similarly powerful other components. For memory handling, Corsair includes it's own two 16GB Vengeance LPX stick totaling 32GB, and 1TB SSD. A 2TB secondary HDD will give you a lot of room for gaming.
The other One a100 configuration that Corsair retails for $3,599 is Ryzen 9 3900X with Nvidia GeForce RTX 2080 Ti, which we think is still overkill. And also a $2,999 base model that further drops to an 8GB RTX 2080 Super and halves the solid-state drive space to 500GB. Even that configuration is the upper crust in the gaming desktop market.
You may think to just go with the base model and upgrade it afterward — it is a gaming desktop, after all, but it wouldn't be that easy. You will open up the chases, but to access the motherboard, there is some serious deconstruction in front of you. This is definitely not a PC that lets anyone come to be into to tinker with the hardware. But don't worry, it's unlikely that the high-end components of the One a100 model would need upgrading anytime soon.
Design and connectivity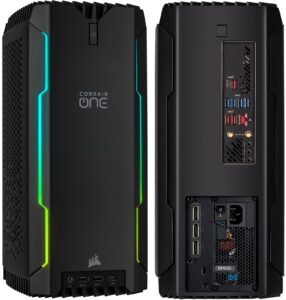 The chassis measures are just 14.96 inches tall and 7.87 inches wide perfect for gamers that want to play high-end 4K PC games in their living rooms without a huge tower. The One a100's sleek dark metal exterior looks incredible and emphasized by a couple of RGB LED strips down the front. The power button stays on top of the front between the strips while a well-located assortment of ports goes along the front-bottom. Here you'll get two 3.1 USB-A ports, a headphone jack, and an HDMI 2.0 port, which is impressive for virtual reality headsets. 
And, because it's a desktop system, there are plenty of ports around back, too. The AMD X570-based motherboard has four USB 3.2 Gen 1 Type-A ports, three USB 3.2 Gen 2 Type-A ports, a single USB 3.2 Gen 2 Type-C port, Gigabit Ethernet, and audio jacks. There is also Intel AX200 wireless card and support for Bluetooth 5 and new Wi-Fi 6 802.11ax. And below them, there are three DisplayPort 1.4 video outputs that the GeForce RTX 2080 Ti offers.
An 80 Plus Gold certified the Corsair SF600 supplies a decent 600 internal power which is specially designed for small-form-factor systems.
On the roof of the case there horizontally sits a 140mm Corsair ML140 cooling fan. It remains quiet and even in resource-intensive games, it isn't noisy.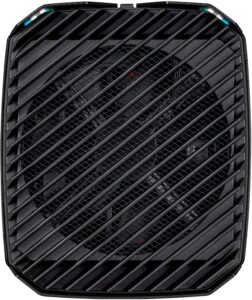 Performance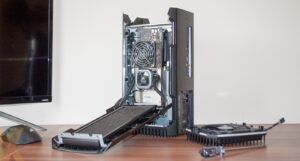 No doubt, the Corsair One is an expensive machine, but it delivers some really solid performance out of it. It dominates gaming benchmarks. 4K is undeniably an option particularly in most upcoming games, so if you a plan to experience Horizon Zero Dawn port, this could be the best way to go on.
Credits to that RTX 2080 Ti, even in the toughest title: the Metro Exodus at 1080p Ultra, a rock-solid 94 fps are achieved. In 4K titles, 50 to 60 fps are observed which are sufficient enough for many single-player games. The ray-tracing performance was also decent but it considerably decreased the framerates, so 4K Ray tracing is still not as excellent.
Stepping down to 1440p, you'll get more than 90 fps in about the whole thing. If you own a monitor with a wild high refresh rate, further dropping down to 1080p will deliver you insanely high framerates in most of the games.
Conclusion
The Corsair One a100 is one of the most powerful and classy small-form-factor PCs. This compact gaming PC has set the standard for what it is possible on a mini-ITX platform by embracing some of the best components into its petite 12-liter case. With an AMD Ryzen 9 3950X and an RTX 2080 Ti – not to mention the 32GB of RAM, it wouldn't let you miss any of the action.
If you have a ton of cash to throw on your gaming PC, and you just want something that looks cool and runs all the best games, the One a100 is our top recommendation for a high-end, small-form-factor gaming PC that gets almost nothing wrong.
Pros
Rich performance with the most powerful components

Compact design with a little footprint

All Liquid Cooling

Decent look
Cons
Really expensive

Hard to upgrade and service