How to Change Your Status on Google Hangouts on Desktop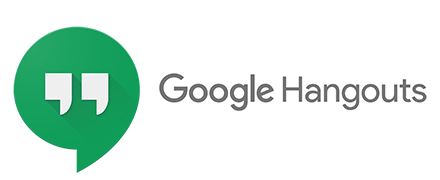 If you use Google Hangouts, you might have noticed that, similar to what you can do on Facebook, you can set a status for your account. On the other hand, these statuses are more comparable to the away messages that were available on the older version of the AIM software that was offered by AOL in the 2000s.
In the same manner that it was valuable back then, setting a status or an away message can still be useful today: It's a fun social tool, and it's also a fantastic way to let others know what you're doing and what you're interested in. If you use Google Hangouts for business, altering your status to let others know you're eating lunch or on vacation can make communication a lot smoother for you and the people you work with.
Using the desktop programme on your Mac or PC to make a change to your status on the Google Hangouts app is a simple process that can be completed in a matter of seconds. This is the procedure:
Read Also; How to Turn on Dark Mode in Google Docs on PC
How to Change Your Status on Google Hangouts on Desktop
1. On your Mac or PC, open any internet browser, and navigate to hangouts.google.com. Next, sign in to your Google Account. After you have successfully logged in, select the three vertical lines that are stacked in the upper-left corner of the screen.
2. Doing so will bring up a menu on the left side of the screen. Simply select "Settings" from this drop-down menu.

3. You will notice that the "Recent Chats" pane on the main page has been updated to provide a variety of new settings. There will be a little box at the top that says "Share your status" (or, if you've submitted a status in the past, it will display your current state). This box will be located next to the photo that represents your profile. Simply click on it.
4. You may now fill in the status that you want, and if you click the happy face on the left, you can select an emoji to go along with it. After you have done so, click the X that is located next to the status box to get back to the home screen.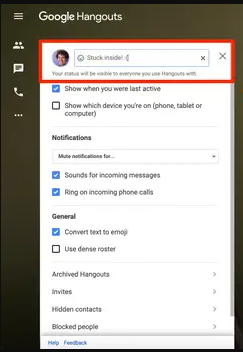 Your status has successfully been saved, and it will now be visible to all of your contacts.
FAQs
What triggers the active status on Hangouts?
If you're using Windows with the Google Chrome Hangouts Plugin, you have a few different status indicators at your disposal. A green dot will appear next to the icons of users who are currently online and engaged in some activity. Users who are not currently online will not have any indicators displayed in their friend lists.
How do I make myself invisible on Hangouts?
You may make yourself invisible or something similar by either downgrading to gtalk or, much more simply, by logging into your Gmail account on your personal computer. Gtalk is the older of the two options. You should be able to locate this availability choice there. Display any recent activity on this post. Launch the Hangouts app and navigate to Preferences, then Account, then Logout.
Why is Hangouts not showing last seen?
They probably turned off their last seen, or you probably did so in order to avoid being seen in the same way. Follow these steps to turn it on. Visit hangouts.google.com and select Menu Settings from the drop-down menu.
What does the green dot on Google Hangouts mean?
If someone has a green dot next to their profile photo in traditional Hangouts, it indicates that they are available to chat with you. These individuals will immediately be informed of any new messages that have been received. You are also able to view when someone was last seen on classic Hangouts, provided that they have the setting switched on for their account.
How does Google Chat determine Away status?
It will be easier for you to concentrate completely on your job when you set your status to away because it will give the impression to others that you are not online even if you are actually working. Disabling the setting to "Show when you were last active" in traditional Hangouts can cause you to be marked as unavailable in Chat for any domains that continue to use this feature.