How to Disable Vanish Mode on Instagram (Android, iOS)

The capabilities of Instagram make it possible for users to communicate with friends and family members who are also using the app at the same time. Within Instagram chats, which are often referred to as DMs, users are able to communicate with one another using letters, photographs, videos, and other material that vanish after being viewed. This feature is referred to as the vanish mode. When a user leaves the chat or turns off the vanish mode, any messages and files that were sent while using the vanish mode will be deleted automatically.
When a user sends a message while Instagram is set to vanish mode, the user will receive a notification from Instagram. Vanish Mode on Instagram functions exactly like the same feature on Snapchat, with the exception that you have to actively activate it in order for it to work. Second, this function is not accessible in group chats; it can only be used in one-on-one conversations. This tutorial will teach you how to disable Instagram's Vanish Mode and access your account again. So let's get started:
Read Also: How to Update Your Instagram Messaging
How to Disable Vanish Mode on Instagram (Android, iOS)
If you want to deactivate the Vanish Mode feature when you are participating in a conversation on Instagram, you need follow these instructions:
1. Start the Instagram application on your mobile device, regardless of whether it's an Android or an iOS one.
IMPORTANT NOTE: Before we go any further, please ensure that you are logged into your Instagram account.
2. To access Direct Messages or Messenger, pick the icon that is situated in the top right hand corner of the screen.

3. Start the relevant dialogue that includes the vanish mode that you want to disable, and do so as soon as possible.
4. Simply swiping your finger upward from the bottom of the conversation screen will turn off the Vanish mode.
5. To disable the Vanish Mode toggle, go to the chat panel, choose the information icon (i), and then scroll down to the section labeled "chat settings."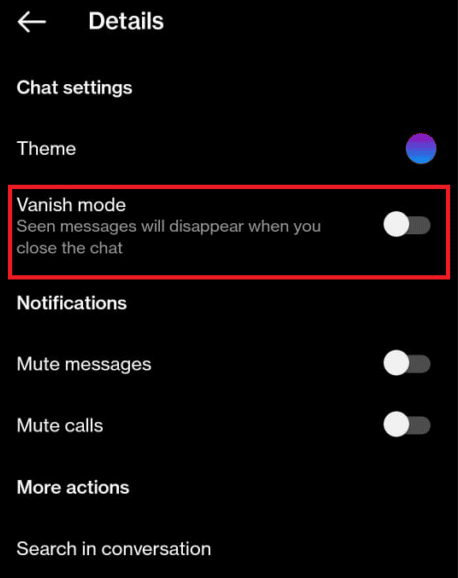 FAQs
Why is my Instagram on vanish mode?
Users are able to have private conversations with one another that vanish after they have been viewed thanks to this feature. The Vanish mode in Instagram protects the confidentiality of your private messages by hiding them from anyone who accesses your device without your permission.
Can you turn off vanish mode if someone else turned it on?
You and the other person have the ability to exit vanish mode at any time. The messages won't be deleted right away; it won't happen until after you leave the chat.
Can both sides see vanish mode?
There is a function on Instagram called Vanish that would remove messages for both parties involved in a conversation. If you used the function or even just accepted it, the messages you sent while using the Vanish Mode feature will be removed from the chat. Similarly, any message that you transmit or receive will be deleted without a trace.
Is Instagram Vanish mode safe?
If someone screenshots a message that you sent using Instagram's disappear mode, Instagram will notify you. Messages that vanish can't be saved, duplicated, or forwarded once they've been read. Instagram provides its users with a number of safeguards to protect their privacy. The vanish mode feature is one of the safety features that are accessible on the site.
Does vanish mode turn on for everyone?
People you are already connected to are the only ones who can use vanish mode in a chat with you. Because vanish mode is also opt-in, you have the option of deciding whether or not to engage vanish mode with a certain person. You will be informed in the event that a screenshot of your conversation is taken by another user while you have vanish mode enabled. The feature that makes messages disappear is available to all conversation participants.