How To Fix Paramount Plus Error Code 3205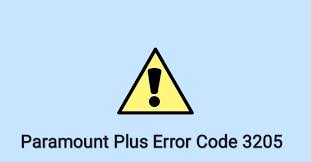 On your television or other streaming devices, do you get the Paramount Plus error code 3205 and the message "Video Unavailable"? Do you see the message "Video Unavailable" on your computer?
Paramount Plus is a well-known on-demand video streaming service that has more than 32 million active customers in addition to its other features. The 3205 error, on the other hand, continues to bother the vast majority of people's minds. That's where we come in to assist you in resolving the problem using straightforward do-it-yourself troubleshooting techniques.
Read Also: How to Cancel Paramount Plus on Roku
Why does my Paramount Plus not work?
The reasons for Paramount Plus not working and throwing an error code on your device can be:
Malfunctioning streaming device
Unstable internet connection or Poor WiFi signal strength
Incompatible or outdated web browser
Outdated Paramount Plus app
Corrupt browser cache
Active Ad-Block extension
Blocked IP addresses
How to Fix Paramount Plus Error Code 3205
This section will demonstrate seven different methods for resolving the issue code 3205 while viewing material on Paramount Plus.
1. Sign out and back into Paramount Plus
Sign out of your Paramount+ account and then sign back in to continue streaming the content you were watching. Check to see if this helps, as doing so can re-start the user session and therefore resolve the problem.
2. Restart your device
The majority of playback problems are caused by a momentary fault in the streaming device's software. In many cases, restarting or power cycling the device is the most effective and quickest way to resolve the problem.
3. Troubleshoot internet connectivity and Speed issues
The most prevalent causes of the 3205 issue on Paramount Plus are slow internet speeds and weak WiFi signal strength, according to the company.
To begin, try moving your device closer to the router to see if that helps to resolve any WiFi signal issues. Afterwards, test your internet connection's speed, and if it's slow, restart your router. It is possible that you will experience network congestion during peak internet traffic hours if the problem persists. You should contact your service provider and request a quicker connection in this situation.
4. Check Web Browser compatibility
The usage of Paramount Plus in browsers other than Chrome, Firefox, Safari, and Microsoft Edge results in playback difficulties with the programme. As a result, be certain that you are using a browser that is compatible with the streaming service.
If you encounter the same problem on a supported web browser, you should either upgrade it to the most recent version or switch to another browser.
5. Clear corrupted cache
Over time, the browser cache might get bloated and corrupted, resulting in streaming difficulties. Therefore, it is necessary to clear the browser cache on a regular basis to ensure that the website operates properly.
6. Force stop, Update or Reinstall the app
If you are using the Paramount+ app on a streaming device and encountering the error code, follow the steps below in the order they were written.
Force stop the app on your device through the Apps section.
If this fails, update the app to its latest version.
Are you still experiencing the error? Reinstall the app on your device.
7. Disable Ad Blocker
Video streaming apps frequently do not function properly when used in conjunction with adblocker plugins. Because of this, if you have one installed in your browser, you should disable it to see whether it resolves the problem.
Video