How to Get "The Recluse" in Destiny 2: Season of the Drifter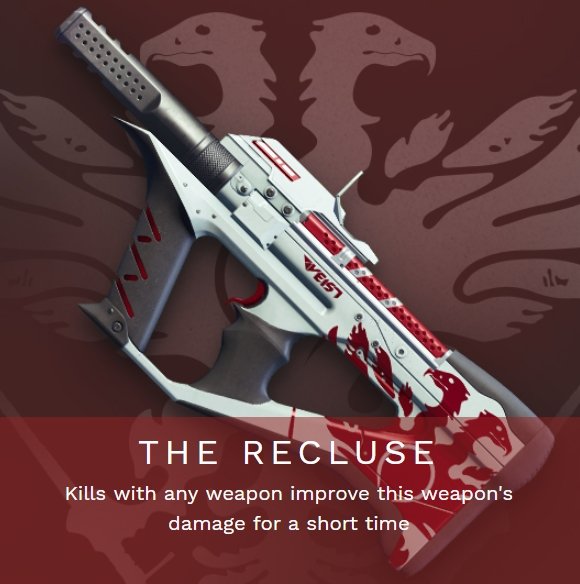 Three new Pinnacle weapons have been introduced in Season of the Drifter for Destiny 2 players. These includes Oxygen SR3, The Recluse in Destiny 2 and 21% Delirium. Check out our guide on Oxygen SR3. All of these weapons will require you to complete a long and time-consuming quest. The quest will be further divided into sub-categories. So, if you are serious about getting your hands on these weapons, we suggest you start doing the chores. Before you get started, we might add that getting The Recluse won't be easy. But don't worry, in this article we will tell you everything that's need to be done to unlock the beautiful yet deadly SMG.
How to Unlock The Recluse in Destiny 2
Main quest to unlock The Recluse in Destiny 2". To start this quest, pay a visit to Lord Shaxx. He will have some Crucible challenges in the inventory. When you talk to him, you'll see some challenges and one of them will be "Mouth of Babes". Select it and stat the quest. Now completing this quest is a big headache for starts but certainly not for game veterans. Mouth of Babes require you complete a specific Crucible Triumph called The Stuff of Myth. To complete The Stuff of Myth, you need to fulfill following two conditions:
Win matches in the Crucible
Reach Fabled Rank
Winning Crucible matches sound simple enough. But there is a catch like always. Winning one Crucible match will only grant you 1% progress towards your goal. So, instead of playing 100 Crucible matches (considering you complete and win each one of them), we suggest that you try playing Competitive list or Iron Banner. They will boost your progress towards the set goal.
Next task is rather simply and short. It just requires you to play the game again and again and after sometime you'll reach Fabled rank. As a matter of fact, playing and completing the first challenge will almost complete your second objective automatically. Ranks are ordered in the following manner in Destiny 2:
Why Recluse is so good
In the event that you need a little inspiration during your Competitive trip, recall that Recluse in Destiny 2 is totally bonkers. Its one of a kind advantage, Master of Arms, significantly expands its harm at whatever point you get a murder with Recluse or some other weapon. This lets you shred through gatherings of adversaries or trade to Recluse for a fast subsequent slaughter. Its other advantage, Feeding Frenzy, likewise empowers quick reloads after any execute so you can keep the slug hose streaming.
As though it wasn't sufficient effectively, Recluse additionally profited immensely from the occasional Artifact presented in Destiny 2: Shadowkeep. This Artifact offers two mods that function admirably with Recluse. Initially, Anti-Barrier Rounds for auto rifles and submachine firearms. This mod transforms Recluse into a shield-eating machine in end game exercises like Nightfalls and the Garden of Salvation, and it synergizes amazingly well with the Breach Refractor which discounts projectile energy on puncturing murders. Besides, and similarly as critically, you can get a one-cost variant of Enhanced Submachine Gun Loader through the Artifact. Combined with Feeding Frenzy, this makes reloading Recluse in Destiny 2 practically momentary.
Recluse is disgustingly acceptable, in all honesty, and it's without a doubt the essential explanation that Pinnacle weapons were ended for Ritual weapons. I wouldn't be shocked to see Recluse nerfed again soon, yet for the present, it's totally bananas, so go get it.
Guardian<Brave<Heroic<Fabled<Mythic<Legend
You'll be starting from Guardian rank and this quest requires you to rank up till you reach Fabled. Fastest way to improve your rank is spending more time in game and winning more matches. Keep one thing in mind that losing a match will lose your rank points. Every match will hold equal importance towards your goal.
Now that you know how to acquire Recluse in Destiny 2, what are you still doing here. Start playing Destiny 2: Season of the Drifter.
Check out more Destiny 2 Guides below:
If you want to contribute, write for us or guestpost contact here.