How to Make YouTube Channel Private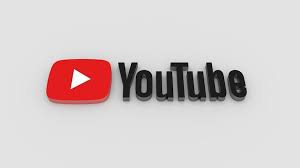 YouTube has evolved into one of the most efficient methods for uploading and sharing videos throughout the web. The website is regarded as a major force among online video sharing platforms due to the fact that it has roughly two billion members located in different parts of the world and that approximately 720,000 hours of video are posted every single day.
On the other hand, you have the ability to make everything on your channel, not just the videos, private. This brief video will walk you through the steps necessary to turn your YouTube channel into a private one.
Read Also: How to Set Up YouTube TV on Apple TV
How to Make YouTube Channel Private
1. Ensure that you are signed in to your YouTube account.
2. Navigate to the top right corner of the screen and click the icon that looks like your profile.
3. Navigate to the YouTube Studio.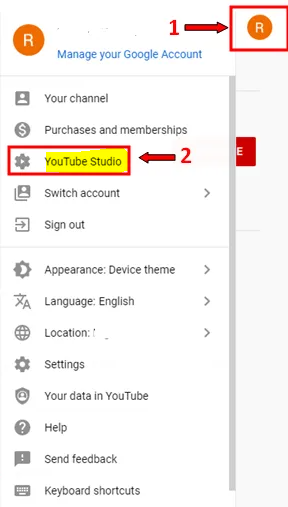 The dashboard for your channel will load on the following screen. Your channel stats are displayed on your dashboard. This includes the overall number of active subscribers you have as well as a summary of the amount of views you've received over the course of the previous month.
4. Select Settings from the menu of available options located on the screen's left-hand side.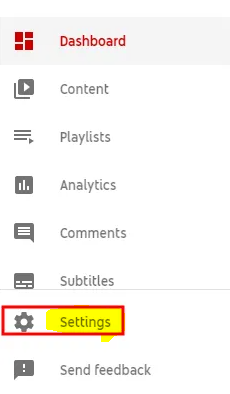 The window labelled Settings appears, displaying a selection of configuration options.
5. Select the Channel from the drop-down menu.
6. Navigate to the tab labelled Advanced Settings.
7. Go to the bottom of the page, where it says Other Settings, and then click on the Remove YouTube content option.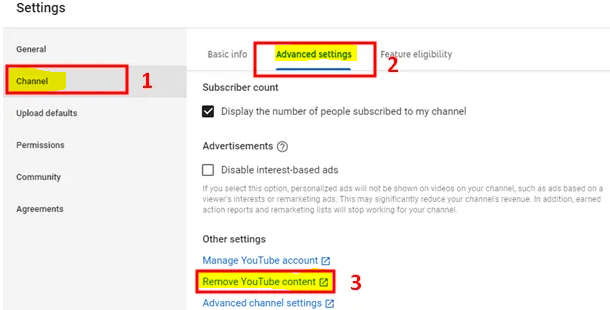 You will then be required to verify your identity using Google in a new window that will appear. This is a precautionary action that should be taken to prevent unwanted users from accessing your YouTube channel.
8. In the space provided, enter your Google credentials, and then click the Next button.
9. To make your content private, select the "I wish to hide my content" option and check the appropriate box (or boxes) to confirm that you are aware of the content that will be hidden.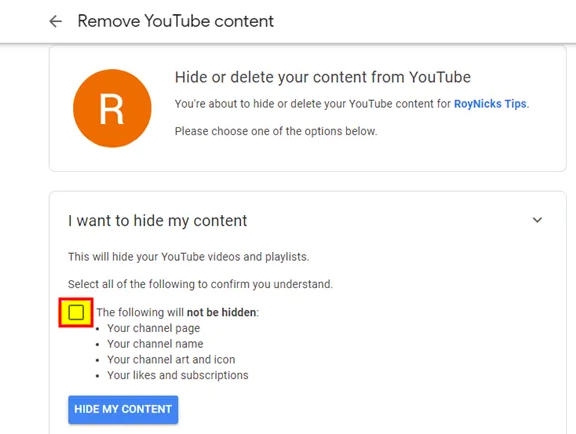 Keep in mind that even if you make your channel private and hide all of your material, people will still be able to see your page, channel name, and icon.
10. Confirm your choice in the following pop-up window after clicking the button labelled "Hide My Content."
And that's it! Your video is no longer visible on any YouTube channel.
FAQs
Is a private YouTube channel really private?
When you lock a video as private, it will no longer appear on your channel or in search results, and it will also be hidden from other users. When you lock a video as private, none of your subscribers will be able to watch it.
How much does a private YouTube channel cost?
Beginning a channel on YouTube does not cost anything at all. However, in order to develop video content, you may need to make a financial investment in video production equipment, the price of which can range anywhere from $1,300 to $10,000.
Can my subscribers see my unlisted videos?
To refresh your memory, Unlisted playlists and videos can be seen and shared by anybody who has access to the link. Others who visit the "Videos" tab of your channel page won't be able to see unlisted videos, and unlisted videos shouldn't appear in the search results on YouTube unless someone adds an unlisted video to a public playlist. Unlisted videos can only be made public when someone adds them to a public playlist.
What is YouTube unlisted vs private?
If you set your movie to private, only the individuals you specifically invite will be able to view it. Videos that are set to private mode will not appear in search results, either on Google or YouTube, or on your channel. Your video will not appear in any search results or on your channel if it is set to the Unlisted privacy setting. Those who are aware of the URL are the only ones who can view the movie.
Will YouTube delete private videos?
In the event that your video violates YouTube's Terms of Service, the site has the right to remove it. Your videos will remain on the platform indefinitely provided that they do not break the Terms of Service. Display any recent activity on this post.