How to Send Feedback for My AI on Snapchat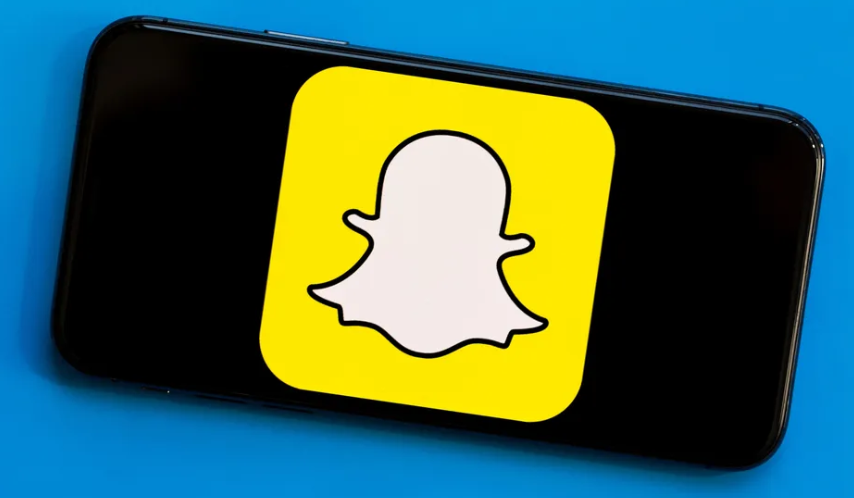 My AI is just getting started; it's still in the prototype phase. It is possible that it will provide just partial or biased responses, and as a result, you shouldn't always rely on its advise. The manufacturer of the tool claims that it has been known to have hallucinations and that users may coax it into saying anything they want it to say. Sending feedback to the developers is a useful approach to bring to their attention any discrepancies or bugs that you find. It also contributes to the whole experience becoming more tailored to your requirements in the process. This post will walk you through the steps necessary to provide feedback for My AI on Snapchat. So let's get started:
Read Also: How to Block Team on Snapchat on Your Mobile App
How to Send Feedback for My AI on Snapchat
By adhering to the straightforward procedures that are detailed in the following paragraphs, you will be able to submit feedback to a member of the development team:
1. Within the chat, you can begin a conversation with the bot.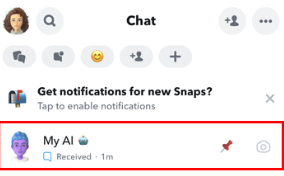 2. Keep your finger on the button to get a more detailed response from the bot.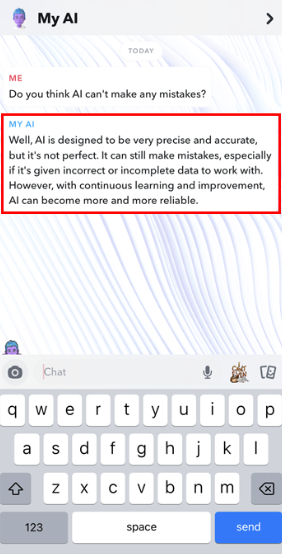 3. Click the button labeled "Submit Feedback."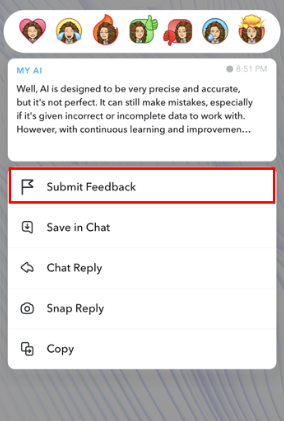 4. Let's talk about the components of that answer or the experience as a whole that, in your opinion, have room for improvement.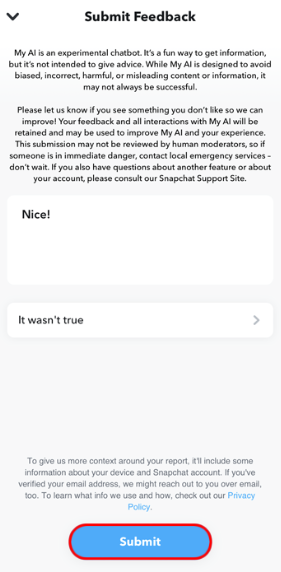 FAQs
Is my AI on Snapchat safe?
My AI was designed to adhere to specific standards so that the information it delivers is not harmful. These guidelines include avoiding responses that are violent, hateful, sexually explicit, or otherwise dangerous; avoiding reinforcing negative biases; although, it is possible that it will not always be effective in doing so.
Can I get rid of my AI on Snapchat?
Keep pressing and holding the My AI button. Tap the 'Chat Settings' button. Select "Clear from Chat Feed" from the menu.
Do you need Snapchat plus for my AI?
At the time of this writing, you will only be able to do this if you are a subscription to Snapchat Plus. "Snapchat+ subscribers receive early access to new My AI features and have the ability to unpin or remove My AI from their chat feed," it says on the site. "Snapchat+ subscribers also have the ability to remove My AI from their Discover feed."
Can character AI see your chats?
Yes, the Character AI is able to read your conversations. The only time privacy is addressed in Character AI's frequently asked questions is in reference to character creators and their ability to view chats.
Are AI chats safe?
Threats Posed by Chatbots and AI
If a chatbot is programmed with incorrect or misleading information during its training, it will communicate this information to anybody who engages with it. Concerns about privacy: Chatbots can collect and store significant amounts of personally identifiable information from users, making this data susceptible to being hacked or improperly handled.
Who made Snapchat AI?
The bot, which is called My AI and is powered by OpenAI's ChatGPT, provides users of Snap with a social companion as well as a repository for their accumulated knowledge.