Razer Blade Stealth 13 2020 Review: A Thin and Light Ultrabook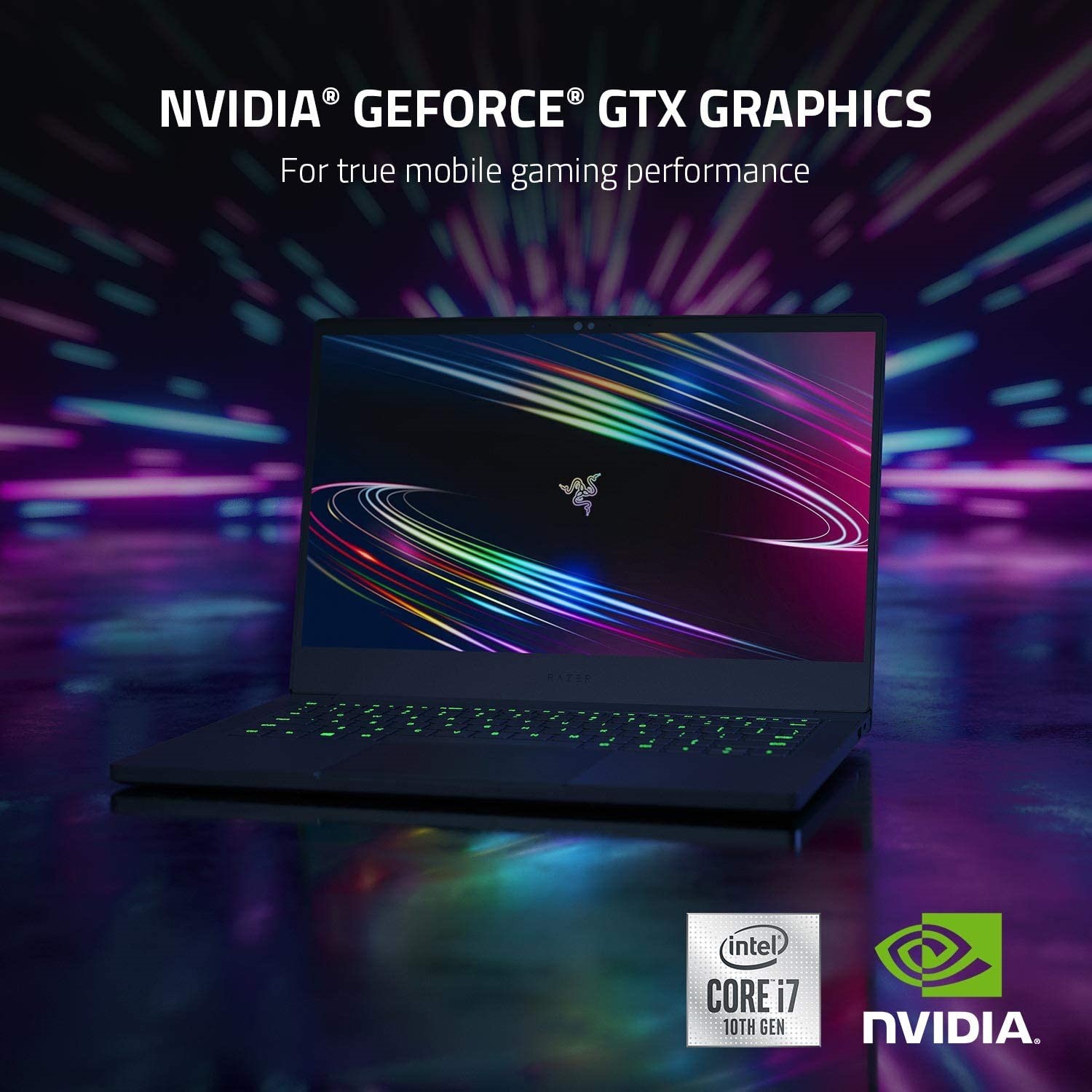 The Blade Stealth 13 (2020) is a step-up over last year's model which had Intel's integrated graphics. With the new and improved version, Razer has beaten itself. Just keep in mind that this is an Ultrabook – a tiny and thin laptop –   not a full-sized powerhouse laptop!. It now has a Quad-Core 10th Gen Intel i7-1065G7 CPU, and a dedicated GeForce GTX 1650 Ti Max-Q graphics card inside which certainly isn't one of the most powerful mobile GPUs on the market but is great considering the small 13.3-inch chassis. 
Razor hits the sweet spot between power and portability and achieving such a sweet spot in laptop design is decidedly tricky. It's a world away from traditional gaming laptop designs like that of the Dell G5. Inside it's compact and light chassis it packs more powerful chips, much better keyboard, new 120Hz display, and much more with an already solid design.
For best small-form-factor PC, see our Corsair One a100 Review
Price, Features, and Specifications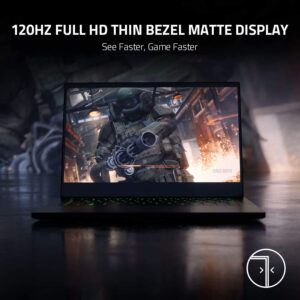 Razer offers three Blade Stealth models for 2020. All three include the same the Nvidia GeForce GTX 1650 Ti Max-Q graphics card, the Intel Core i7-1065G7 processor, a 512GB SSD, and a 16GB of RAM, with only difference in the display.
The base model provides a standard 13-inch, Full HD (1920×1080) display clocked at 60Hz for $1,500 at Amazon.
The next model features up a Full HD 120Hz display for smoother gameplay, available for $1,600 at Amazon.
While the top-end model $1,900 at Amazon packs a 4K touch panel at 60Hz.
Although there's no denying that the 4K-screened Razer Blade Stealth 2020 is an absolute beauty, I think the GTX 1650 Ti GPU isn't powerful enough for 4K gaming, so this will make it a needless luxury for the majority of people. 
The GPU this laptop has, also won't often hit the 120Hz top limit, but as it is able to go beyond 60 frames per second (fps) which is a windfall in itself for many multiplayer games.
Fairly speaking, in this case, the cheapest option might be your best bet or you may go on the full HD 120Hz way. The 4K resolution is almost overkill display for this small laptop. Now all you need to choose, whether to spring for a high-end 4K display, the median FHD 120Hz, or the base model. However, the screen quality is sturdy, with a high-pitched, luminous picture. And the thin display bezels complete the up-to-date appearance.
One evident area where the Blade shines is the webcam. It makes the Blade that much handier for non-gaming tasks. It could easily perform double duty as a driver for daily work or for messing around with friends on Zoom. In addition, it supports Windows Hello facial detection, which is useful for swift and cool logins.
The colorful keyboard is the feature that gives this machine a look of a gaming laptop. You can tailor colors, speeds, and other effects using the Razer's Chroma Studio software. The keys are no longer individually backlit as they were on some older models, so you can't get up to anything too fancy. This is the change that Razer made for battery savings. You change the color of the whole layout at once.
Battery Life
Another area where the Blade Stealth takes the lead is the battery life — at least for a gaming laptop. Our battery test involved playing a 4K video with the brightness set to 250 nits until the battery drains. It was not the absolute tell-tale of gaming performance, which is more power-intensive, but it gave us a decent idea. The Blade Stealth carried it out marvelously, catching over 9 hours of battery on the 120Hz display. We should expect to last even longer on the 60Hz model.
That's really striking when most of the gaming laptops still struggle to get even four or five hours' runtime.
Design and Aesthetics
Aesthetics have always been Razer's strong suit, and Blade Stealth 13 is no exception. It comes with the high-quality all-aluminum black squarer chassis. The lid logo is engraved black on black rather than the typical luminous lime-green Razer logo.
This machine measures (11.9 x 8.2 x 0.6) inches which are just larger than its predecessor. That 0.6-inch height is especially inspiring, just slightly thicker than the previous model—because now there's a dedicated graphics card inside.
It gives a look more like a professional tool than a gaming laptop. It is armed with just sufficient of Razer's gaming experience to be in conformity with both roles well. It also performs enough to set itself apart on both grounds.
This is the similar Blade Stealth 13 we've viewed a few times before. The trackpad is rightly sized, allowing for a plentiful amount of finger movement, and the speakers are faced upwardly covered under thin mesh strips each side of the keyboard. The sound quality of these speakers is astonishingly good considering such a compact laptop. These are perfectly capable of driving out high-volume audio without distortion with the headset plugged in.
One noticeable change is the new keyboard arrangement, which aimed to address some consistent complaints about the previous layout. In the past design, the arrow keys were all full-sized for this small-form-factor laptop which resulted in the right-side Shift key to be half the usual length. Now the up and down arrow keys are reduced to half-height, allowing the shift key to be full length. The arrow keys are used far less frequently than Shift, so this layout is much more natural and comfortable for typing.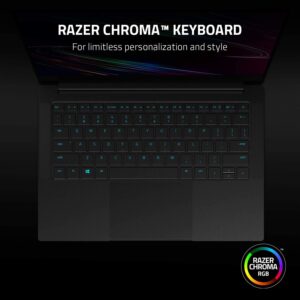 When it comes to port selection, it's the same as was on last year's model. On the left side, it contains one USB Type-C port and one USB Type-A port, along with a combo audio jack. The right side almost parallels the left with USB-C and USB-A ports, but without an audio jack. The left USB-C port can support video-out, using DisplayPort-over-USB, while the right USB-C port offers Thunderbolt 3 support. Both ports can also be used to charge the system.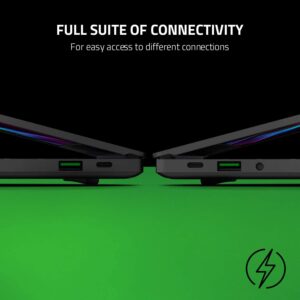 So, the design remains fantastic, with its elegant 1.4kg weight meaning it can easily be held with just one hand.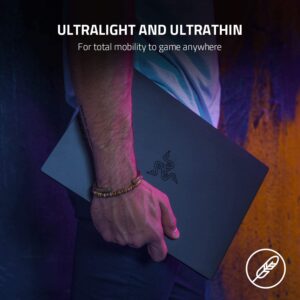 Performance
This is undoubtedly the most potent Razer Blade Stealth laptop so far. The GTX 1650 Ti graphics card would let you play the mainstream of games in Full HD, whether it be Shadow of the Tomb Raider or Dirt Rally. Framerate performance was not up to the ideal for AAA titles, but achievable if we compromise on texture quality by dropping the graphics predetermined options. 
The Razer Blade Stealth 2020 would impress you in the titles like Apex Legends and Rocket League, as long as you don't expect over-the-top framerates.
If we compare its performance with its rival the Asus's Zephyrus G14 which contains RTX 2060 GPU, the G14 delivers more power. The Stealth achieved average 45fps in Shadow of the Tomb Raider on its highest settings while the G14 ran the same benchmark on the same settings at 74fps which is significantly better.
The Zephyrus G14 isn't a giant gaming laptop. With the measurement of (12.8 x 8.7 x 0.7) inches, it's slightly thicker than the Blade Stealth and about an inch longer. And evaluating by the results, it's a true gaming laptop, not a hybrid type. And it comes with the same price tag $1,600 at Amazon as Blade Stealth Full HD 120Hz display model comes at.
Conversely, the Blade Stealth is surely more efficient than the comparably priced XPS 13, and much cheaper than the Surface Book 3, so Razer's not lacking parity with its pricing.
Obviously, most of the people like such small-form-factor laptop more for everyday productivity tasks than playing powerful resource-intensive games or heavy media editing. For regular office tasks, the Blade does a great job, there is no performance difference between the Blade and G14. It will allow you to open dozens of browser tabs, many of the heavy applications, and miscellaneous tasks very smoothly without performance degradation.
Bottom Line
By and large, we think this is a worthwhile admiring laptop. More or less everything about it is good. But if you're purely after a gaming beast then look elsewhere, get a big chubby desktop alternative for the same price and you'll love it. The more powerful excellent 14-inch rigs are also out there such as Zephyrus G14, Dell G5, and the Envy x360, at almost the same or low price… but that's not what the Stealth 13 is trying to be.
So, why would you want the Razer Blade Stealth 13 instead?
There're reasons for that. First is the superior built-in webcam. Second is Blade's hallmark aesthetics, third is the excellent battery life, and one more is the form factor. At the end of the day, the Blade Stealth 13 is still the most portable gaming experience you can find. If you happen to be someone that does more business than play then this is for you.
| | |
| --- | --- |
| Pros | Cons |
| Compact and Sturdy design | Gaming performance is not up to the level of lager machines |
| Commanding Specs with a 120Hz screen | No dedicated video-out ports |
| Great battery life | |
| Improved colorful keyboard layout | |
| Charging option via either of the two USB-C ports | |
[su_button url="https://amzn.to/3iQyhir" size="6″ center="yes" icon="icon: amazon" text_shadow="0px 0px 0px #cbe437″]View On Amazon[/su_button]